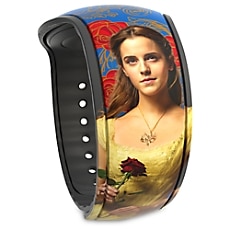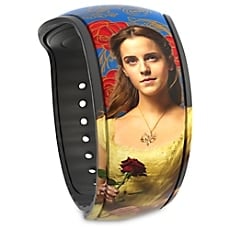 Update 2/5/17: The new MagicBand 2 have begun shipping to Disney World visitors. The Disney Store has also begun selling Limited Edition customized MagicBand 2 on their site, including one featuring Belle from the upcoming live action Beauty and the Beast movie.
Original Post 11/23/16: There was a lot of news coming out of this past weekend's D23 Conference. One of the most exciting announcements at D23 was confirmation of something that has been rumored for some time- Disney World is getting new MagicBands!
The new MagicBands, or MagicBand 2 as Disney is calling them, work very similarly to first generation bands. They are essentially your vacation lifeline if you are staying at one of the many Walt Disney World Resort hotels. Once linked to your My Disney Experience account, you can use your MagicBand to enter parks, pay for food and goods at resort shops and restaurants, skip long attraction lines with Fastpass+, unlock your hotel room and even send your PhotoPass pictures to your account automatically. It seems like there is a new MagicBand use almost every time my family visits Disney World and each time a new feature is announce, they become an even more valuable and convenient tool.
Incidentally, they can also be a real nightmare when they don't work correctly. I know from experience, but that is a story for a different post.
Disney says the new design is aimed at making the new magic bands more "versatile and customizable." While it is unclear exactly what new features will accomplish this, I suspect the versatility may be connected to the pop-out center chip on the new bands. Many are speculating that this chip might enable Disney to create a line of wearables that the chips can be inserted into. Leave it to Disney to create yet another stream of income out of seemingly nothing.
According to our friends at WDW News Today, MagicBand 2 begin shipping in December for annual pass holders and January for vacationers.
Here is a quick video from our friends at InsidetheMagic, which shows off the new bands at D23. Have a look:
We should be getting our Magicbands within the next month for our upcoming Disney World trip. It will be interesting to see what we get. As always, I will be adding to and updating this post as more details about the MagicBand 2 are released so stay tuned!