Here is everything you need to know about the amazing Hollywood Pictures movie Crimson Tide including casting, reviews, fun facts and more. I hope you find this listing informative and helpful!
Crimson Tide Description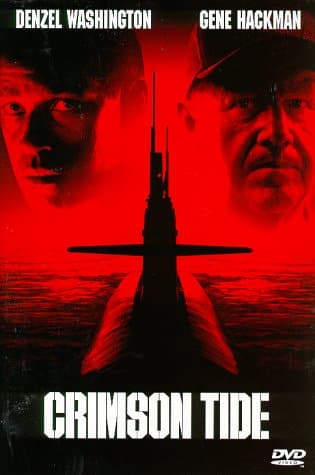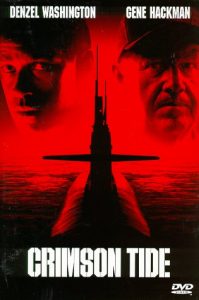 In the midst of a global crisis, the USS Alabama receives an unconfirmed order to launch its nuclear missiles — signaling the start of Word War III. The tension quickly rises as the sub's respected commander (Gene Hackman) and his brilliant executive officer (Denzel Washington) clash over the validity of their orders … battling each other for control of the sub. As this epic struggle rages under the sea,
CRIMSON TIDE brings motion picture excitement to a new level — and you to
the edge of your seat.
---
Crimson Tide Fun Facts
The film's title, "Crimson Tide," refers to the University of Alabama's football team, known for their distinctive crimson jerseys. The connection is symbolic as the film deals with conflicts and tensions within a military hierarchy.
The screenplay for "Crimson Tide" was written by Michael Schiffer and later underwent rewrites by Quentin Tarantino, who is uncredited for his contributions.
Denzel Washington's character, Lieutenant Commander Ron Hunter, was originally written as a white character. However, Washington's involvement in the film led to the script being rewritten to accommodate his casting.
The movie features intense and claustrophobic submarine sequences that were filmed in real submarines, including the USS Alabama and the USS Drum, which are part of the USS Alabama Battleship Memorial Park in Mobile, Alabama.
The film's score was composed by Hans Zimmer, known for his work on various blockbuster films. The score incorporates a tense and pulsating theme that adds to the suspenseful atmosphere of the movie.
"Crimson Tide" explores themes of authority, command, and the ethical dilemmas faced by military personnel. It delves into the concept of "mutiny" and the consequences of divided loyalties within a military structure.
The film received generally positive reviews from critics, praising the performances of Denzel Washington and Gene Hackman, as well as the tension-filled direction of Tony Scott.
"Crimson Tide" features a memorable and intense verbal showdown between Denzel Washington and Gene Hackman's characters, known as the "I'm Captain now" scene, which has become a standout moment from the film.
The movie was a commercial success, grossing over $157 million worldwide against a budget of $53 million. Its critical and financial success solidified its place as one of the notable submarine-themed films.
---
Crimson Tide Cast:
Denzel Washington: Lieutenant Commander Ron Hunter
Gene Hackman: Captain Frank Ramsey
George Dzundza: Chief of the Boat Walters
Matt Craven: Lieutenant Roy Zimmer
Viggo Mortensen: Lieutenant Peter Ince
James Gandolfini: Lieutenant Bobby Dougherty
Rocky Carroll: Lieutenant Darik Westerguard
Jaime P. Gomez: Officer of the Deck Mahoney
Michael Milhoan: Chief of the Watch Hunsicker
Scott Burkholder: Tactical Supervising Officer Billy Linkletter
Danny Nucci: Petty Officer Danny Rivetti, Sonar Supervisor
Lillo Brancato, Jr.: Petty Officer Third Class Russell Vossler
Rick Schroder: Lieutenant Paul Hellerman
Steve Zahn: Seaman William Barnes
Mark Christopher Lawrence: Head Cook Rono
Ryan Phillippe: Seaman Grattam
Daniel von Bargen: Vladimir Radchenko
Jason Robards: Rear Admiral Anderson
---
Crimson Tide Crew:
Director: Tony Scott
Producers: Don Simpson and Jerry Bruckheimer
Screenplay: Michael Schiffer
Music: Hans Zimmer
---
Crimson Tide Details
Movie Studio: Hollywood Pictures
Year Released: 1995
Type of Movie: Live Action
Box Office: $157.3 million
Awards: Nominated Academy Awards; Won Grammy Award
Crimson Tide Trailer:
---