Here is everything you need to know about the amazing Hollywood Pictures movie A Pyromaniac's Love Story including casting, reviews, fun facts and more. I hope you find this listing informative and helpful!
A Pyromaniac's Love Story Description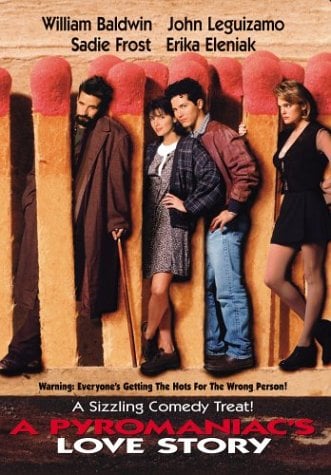 Everyone's falling in love with the wrong person in this hilariously hot all-star romantic comedy — A PYROMANIAC'S LOVE STORY! William Baldwin stars as the outrageous Garet, who tries to win the love of his sweetheart (Erika Eleniak) with a blazing crime of passion … but she's got the hots for Sergio (John Leguizamo), who's carrying a big torch for a hot-tempered waitress named Hattie (Sadie Frost)! Mixed-up romantic signals and comic confusion abound until the smoke finally clears … and everyone involved can realize their burning desires!
---
A Pyromaniac's Love Story Cast:
William Baldwin: Garet
John Leguizamo: Sergio
Sadie Frost: Hattie Erika
Eleniak: Stephanie
Michael Lerner: Perry
Joan Plowright: Mrs. Linzer
Armin Mueller-Stahl: Mr. Linzer
Mike Starr: Sgt. Zikowski
---
A Pyromaniac's Love Story Crew:
Director: Joshua Brand
Producers: Mark Gordon, Barbara Kelly and Allison Lyon Segan
Writer: Morgan Brand
---
A Pyromaniac's Love Story Details
A Pyromaniac's Love Story Trailer:
---