Disney California Adventure Park Info News and Attractions
Last Updated on: December 4th, 2023
Disney California Adventure Park is a vibrant and immersive theme park located at the Disneyland Resort in Anaheim, California.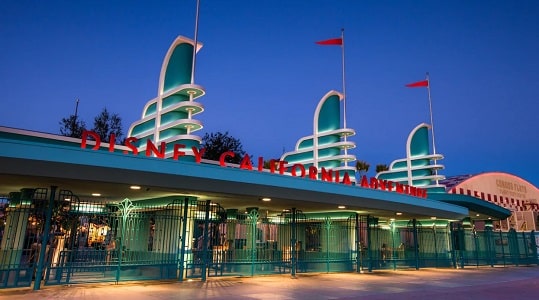 Park History
Disney California Adventure Park first opened its gates to the public on February 8, 2001. It was part of a significant expansion of the Disneyland Resort, which also included the addition of the Downtown Disney District and three new hotels. The park was designed to celebrate the unique spirit and culture of California, offering guests a journey through the state's diverse landscapes, iconic landmarks, and rich entertainment industry.
In its early years, Disney California Adventure Park faced some challenges with attendance and guest satisfaction due to its initial lack of compelling attractions and cohesive theming. In response, the park underwent significant renovations and expansions over the years, with the addition of new lands, attractions, and entertainment offerings.
Disney California Adventure Park Areas:
The park is divided into several themed areas, each showcasing a different aspect of California's culture, landmarks, and entertainment history. Here are some highlights of the park's themed lands:
Throughout the park, guests can also enjoy live entertainment, parades, and seasonal events. From the high-energy "Disney Dance Party" to the nighttime spectacular "World of Color," there's always something exciting happening at Disney California Adventure.
In addition to the attractions and entertainment, Disney California Adventure also offers a variety of dining experiences, including quick-service restaurants, themed dining locations, and signature restaurants. From casual snacks to fine dining, there are options to suit every taste and budget.
To make the most of their visit, guests can also take advantage of the Disney MaxPass system, which allows them to reserve FastPass selections digitally and access unlimited Disney PhotoPass downloads.
With its unique blend of Disney storytelling, California-inspired themes, and thrilling attractions, Disney California Adventure Park provides a magical and immersive experience for guests of all ages. Whether it's soaring over California, racing through Radiator Springs, or experiencing the magic of Disney-Pixar, the park offers endless opportunities for adventure and enchantment.
Park Address:
1313 Disneyland Dr, Anaheim, CA 92802
Disney California Adventure Park Articles, Features and Directory Items:
Here is your complete guide to Disneyland's Disney California Adventure Park including attractions, restaurants, shows and rides past, present and future. As always, new pieces are added to this collection regularly.
Park Attractions
---
---
---
---
---
---
---
---
---
---
---
---
---
---
---
---
---
---
---
---
---
---
---
---
---
---
---
---
---
---
---
---
---
---
---
---
---
---
---
---
---
---
---
---
---
---
---
---
---
---
---
---
---
---
---
---
---
---
---
---
---
---
---
---
---
---
---
---
---
---
---
---
---
---
---
---
---
---
---
---
---
---
---
---
---
---
---
---
---
---
---
---
---
---
---
---
---
---
---
Related Products
You'll have to be wrenched away from wearing this Cars Land headband all the time! Inspired by the popular Disney California Adventure themed area, it…
---
---
---
---
---
---
---
---
---
---
---
---
---
---
---
---
---
---
---
In the News
---