Here is everything you need to know about the amazing Goofy's Sky School attraction at Disneyland including history, reviews, fun facts, photos and more. I hope you find this listing informative and helpful!
Goofy's Sky School | Disneyland Description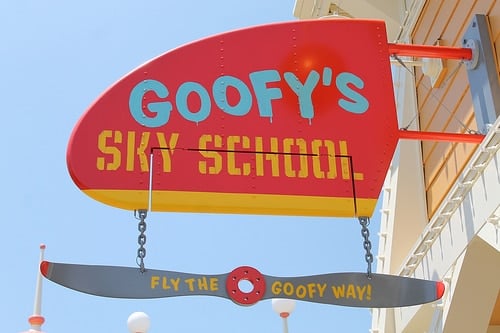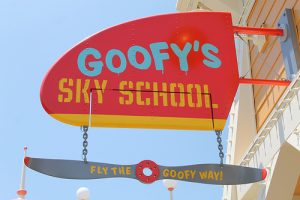 Goofy's Sky School is a thrilling and whimsical roller coaster-style attraction located at Disney California Adventure Park within the Disneyland Resort in Anaheim, California. This family-friendly ride is inspired by the classic Disney character Goofy and his misadventures in aviation.
The attraction's storyline centers around Goofy's attempt to become a flight instructor, despite his comically inept piloting skills. As a guest, you step into the role of his students, and your mission is to navigate a series of twists, turns, and aerial maneuvers while avoiding Goofy's aviation mishaps.
The coaster-style ride takes place on a wild and winding "flight course" that includes sharp turns, sudden drops, and surprising twists. As you journey through the course, you'll encounter humorous scenes featuring Goofy as he tries to teach you the ropes of flying, often with comically disastrous results.
One of the highlights of Goofy's Sky School is the zany and unpredictable nature of the ride. Each trip offers a slightly different experience, with the sensation of soaring through the skies while dodging Goofy's flying contraptions and obstacles. The ride's colorful and whimsical theming adds to the sense of fun and adventure.
Goofy's Sky School is suitable for guests of all ages, making it a great choice for families with children who are looking for a bit of excitement without the intensity of some of the park's larger roller coasters. The attraction offers a humorous and lighthearted take on the thrills of aviation, all while staying true to the classic charm of Goofy himself.
Overall, Goofy's Sky School is a fun and entertaining addition to Disney California Adventure Park, providing guests with an enjoyable and comical adventure through the world of aviation as seen through the eyes of Goofy, one of Disney's most beloved characters.
---
Goofy's Sky School | Disneyland Details
Disney Character(s) in this Post:
Goofy
---