Here is everything you need to know about the amazing Lamplight Lounge restaurant at Disneyland including history, reviews, fun facts, photos and more. I hope you find this listing informative and helpful!
Lamplight Lounge | Disneyland Description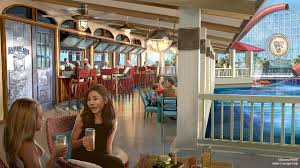 Peruse the sketches, toys and animated movie memorabilia that make this hip new hot spot simply irresistible.
Gather loved ones and head to Disney California Adventure Park when you're looking for the perfect place to grab a bite and chill! Located at the entrance of Pixar Pier, Lamplight Lounge is a delectable sit-down dining option featuring playfully presented food, a full bar and panoramic views of Paradise Bay from both floors.
Renovated from an old warehouse factory, this eclectic eatery boasts cool architectural elements like concrete and exposed brick walls that reveal its storied past—all while creating an airy, bright and organic-yet-sophisticated ambiance. Guests will be excited to see a trove of Pixar treasures sprinkled into the California
casual décor, including concept art, napkin sketches, knick-knacks, collectible toys and other mementos "left behind" by the filmmakers.
An incredible menu, drinks, outdoor seating and fabulous views of Pixar Pier make this newly reimagined waterfront lounge ideal for hanging out with family and friends. Drop by to enjoy summer's must-visit destination and immerse yourself in everything Pixar! (source)
---
Lamplight Lounge | Disneyland Details
---