Here is everything you need to know about the amazing WEB Slingers: A Spider-Man Adventure attraction at Disneyland including history, reviews, fun facts, photos and more. I hope you find this listing informative and helpful!
WEB Slingers: A Spider-Man Adventure | Disneyland Description
WEB Slingers: A Spider-Man Adventure is an interactive dark ride attraction at Disney California Adventure Park in Disneyland Resort. The ride opened in June 2021 as part of the Avengers Campus area.
In WEB Slingers: A Spider-Man Adventure, guests join forces with Spider-Man to battle rogue Spider-Bots that have taken over the WEB (Worldwide Engineering Brigade) facility. Equipped with WEB Slinger vehicles and special web-shooter technology, riders use their own hand motions to sling virtual webs and defeat the Spider-Bots.
The attraction incorporates a blend of physical sets, 3D visuals, and interactive technology to create an immersive experience. Guests aim and shoot virtual webs by making hand gestures, racking up points as they help Spider-Man restore order.
WEB Slingers: A Spider-Man Adventure combines the thrill of a dark ride with interactive gameplay, making it an engaging and interactive attraction for guests of all ages. The ride showcases the popular Marvel superhero Spider-Man and brings his web-slinging abilities to life in a dynamic and interactive way.
The attraction is part of the larger Avengers Campus, an immersive land dedicated to the Marvel Universe. It offers guests the opportunity to experience the world of superheroes and participate in thrilling adventures alongside their favorite characters.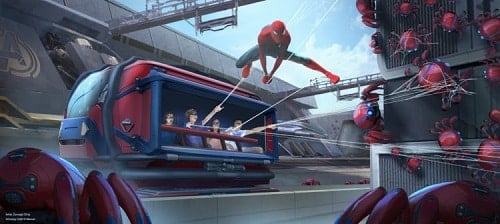 ---
WEB Slingers: A Spider-Man Adventure | Disneyland Details
WEB Slingers: A Spider-Man Adventure | Disneyland Experience:
---
---