Here is everything you need to know about the amazing Luigis Rollickin Roadsters attraction at Disneyland including history, reviews, fun facts, photos and more. I hope you find this listing informative and helpful!
Luigis Rollickin Roadsters | Disneyland Description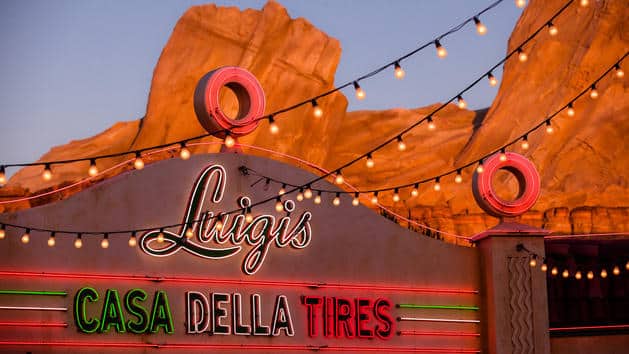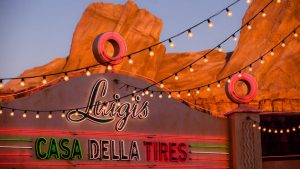 Luigis Rollickin Roadsters is a ride at Disney California Adventure which is based on the popular Disney Pixar Cars movie franchise.
Hop into one of Luigi's colorful cousins for a spin around Casa Della Tires' storage yard-turned-dance floor!
To celebrate Radiator
Springs' Race Day, Luigi has transformed his backyard into a little piece of Italy and invited his family of roadsters to perform traditional "dances" from the old country. Climb aboard and experience a high-octane twist on the "Tire-antella" with Luigi's cugini—aka, the Cousins from Carsoli!
Don your dancing tires—Luigi's free-wheelin' cousins are ready to give you a whirl! The first trackless vehicles at a
Disney park in the United States, these fun-loving Frizzante roadsters were modeled after 1950's Italian rear-engine micro-cars and can only be found in Cars Land. From Gina to Giovanni, each convertible sports names and
distinguishing design elements that reflect their bubbly personalities.
The roadsters start their synchronized "moves"—which are unique to each car's character—once the music begins. Songs sung by Luigi and members of his Carsoli crew include Rollicking Night and Day, Mambo Italiano and The Tire-antella.
As you're carried across the "dance floor," notice Luigi's beautiful Italian garden, which features cypress and olive trees, a tile mosaic, tire-inspired details and even an "autopiary" of his legendary hero, Formula Racer Francesco Bernoulli from Cars 2!
---
Luigis Rollickin Roadsters | Disneyland Details
---