Here is everything you need to know about the amazing Pixar movie Cars including casting, reviews, fun facts and more. I hope you find this listing informative and helpful!
Cars Description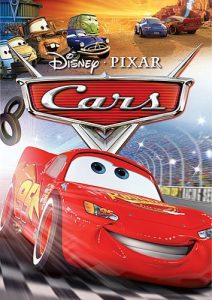 "Cars" is an animated film produced by Pixar Animation Studios and released by Walt Disney Pictures in 2006. Directed by John Lasseter, the movie takes place in a world populated entirely by anthropomorphic cars and other vehicles.
The story follows Lightning McQueen, a young and talented race car voiced by Owen Wilson. Lightning is on his way to the Piston Cup Championship when he gets lost in a small, forgotten town called Radiator Springs. There, he meets a tow truck named Mater (voiced by Larry the Cable Guy) and a love interest named Sally (voiced by Bonnie Hunt). Through his interactions with the residents of Radiator Springs, Lightning learns valuable life lessons about friendship, humility, and the importance of taking time to enjoy the journey.
As Lightning spends time in Radiator Springs, he undergoes a transformation and gains a newfound appreciation for the simple pleasures in life. This character development adds depth to the film beyond its racing-centric plot.
"Cars" received a positive reception from both critics and audiences. The film's stunning animation, heartfelt storytelling, and charming characters contributed to its success. It was also well-received commercially, grossing over $462 million worldwide.
The movie's success led to the creation of a franchise, with two sequels, "Cars 2" (2011) and "Cars 3" (2017), as well as several spin-off shorts and merchandise. The "Cars" franchise has become popular among young audiences, with Lightning McQueen and Mater becoming iconic characters in the world of animated films.
"Cars" remains a beloved film for its entertaining storyline, captivating animation, and themes of friendship and self-discovery. It continues to be enjoyed by audiences of all ages and has left a lasting impact on the world of animation and family entertainment.
---
Cars Fun Facts
The film was directed by John Lasseter, who drew inspiration from his childhood memories of traveling on Route 66 and his love for cars.
"Cars" takes place in a world populated by anthropomorphic vehicles and follows the story of Lightning McQueen, a race car who learns the value of friendship and community.
The character of Lightning McQueen is voiced by Owen Wilson, while other notable voice cast members include Paul Newman, Bonnie Hunt, and Larry the Cable Guy.
The film incorporates various real-life automotive references, paying homage to classic car culture, racing history, and iconic brands.
"Cars" features a memorable soundtrack, including the song "Life is a Highway" performed by Rascal Flatts, which became a chart-topping hit.
The success of "Cars" led to the creation of two sequels, "Cars 2" (2011) and "Cars 3" (2017), as well as spin-off films and merchandise.
The film's production required extensive research and collaboration with automotive experts to accurately depict the details of different car models and the racing world.
"Cars" showcases the picturesque landscapes and small-town charm of Radiator Springs, a fictional town inspired by real Route 66 landmarks and towns.
The film's release was accompanied by the "Cars" Ride and other "Cars"-themed attractions at Disney theme parks around the world.
"Cars" was a commercial success, grossing over $462 million worldwide, and it became a beloved franchise with a devoted fan base, particularly among young audiences.
---
Cars Cast:
Owen Wilson: Lightning McQueen
Paul Newman: Doc Hudson
Bonnie Hunt: Sally Carrera
Larry the Cable Guy: Mater
Tony Shalhoub: Luigi
Cheech Marin: Ramone
Michael Wallis: Sheriff
George Carlin: Fillmore
Paul Dooley: Sarge
Jenifer Lewis: Flo
Guido Quaroni: Guido
Richard Petty: Strip "The King" Weathers
Michael Keaton: Chick Hicks
Katherine Helmond: Lizzie
John Ratzenberger: Mack
Joe Ranft: Red
Jeremy Piven: Harv
Bob Costas: Bob Cutlass
Darrell Waltrip: Darrell Cartrip
Humpy Wheeler: Tex Dinoco
Lynda Petty: Lynda Weathers
Dale Earnhardt Jr.: "Junior"#8
Michael Schumacher: Michael Schumacher Ferrari
Tom and Ray Magliozzi: Rusty and Dusty Rust-eze
Mario Andretti: Mario Andretti #11
Sarah Clark: Kori Turbowitz
Jay Leno: Jay Limo
Jonas Rivera: Boost
E.J. Holowicki: DJ
Adrian Ochoa: Wingo
Lou Romano: Snot Rod
Jess Harnell: Sven the Governator
Mike "No Name" Nelson: Not Chuck
---
Cars Crew:
Director: John Lasseter
Producer: Darla Anderson
Music: Randy Newman
---
Cars Details
Cars Trailer:
---