Sarge (Cars)
Last Updated on: October 18th, 2023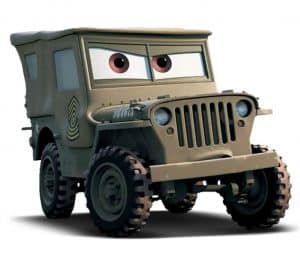 Who is Sarge?
Sarge is a character in Disney-Pixar's animated film "Cars," which was released in 2006. He is a green 1941 Willys military Jeep and serves as a member of the Radiator Springs community.
Sarge, voiced by veteran character actor Paul Dooley, is known for his stern and no-nonsense personality. He is a patriotic character who proudly displays the American flag and often shares stories of his time in the military. He operates the local Sarge's Surplus Hut, a store that sells military surplus items.
In the film, Sarge is a member of Lightning McQueen's pit crew during the Piston Cup championship race. While he doesn't have a significant amount of screen time, his character adds depth to the world of Radiator Springs and represents the importance of honoring one's past and heritage.
The Collection:
Here is the Internet's largest collection of Sarge -related movies, TV shows, toys and other products. As always, new pieces are added to this collection regularly.
Movie Appearances
---
---
---