Here is everything you need to know about the amazing Pixar movie Cars 2 including casting, reviews, fun facts and more. I hope you find this listing informative and helpful!
Cars 2 Description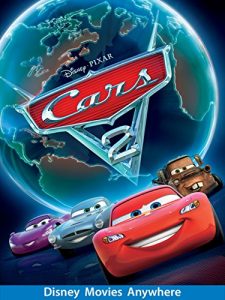 "Cars 2" is an animated comedy-adventure film produced by Pixar Animation Studios and released by Walt Disney Pictures in 2011. Directed by John Lasseter and Brad Lewis, it is the sequel to the 2006 film "Cars" and the 12th film in the Pixar franchise.
In "Cars 2," the story revolves around Lightning McQueen, the famous race car voiced by Owen Wilson, and his best friend Mater, a tow truck voiced by Larry the Cable Guy. The plot takes a thrilling turn when Mater becomes involved in an international espionage mission after being mistaken for an American spy by British intelligence.
As they embark on a globe-trotting adventure, Lightning and Mater find themselves in a world of high-speed chases, action, and intrigue. The film features exotic locations, breathtaking action sequences, and a new array of car characters, including Finn McMissile, a suave British spy car voiced by Michael Caine, and Holley Shiftwell, a rookie spy car voiced by Emily Mortimer.
"Cars 2" differs from its predecessor by shifting the focus from the racing world to a spy-themed storyline. While it received mixed reviews from critics, the film was well-received by audiences and remains popular among young audiences for its fast-paced action and humorous characters.
The animation in "Cars 2" is visually stunning, with Pixar's signature attention to detail and vibrant color palettes. The movie continues to showcase the beloved friendship between Lightning and Mater, adding new layers to their bond and offering a fresh and exciting take on the "Cars" universe.
---
Cars 2 Fun Facts
It is the sequel to the 2006 film "Cars" and continues the adventures of Lightning McQueen and his friends in the world of anthropomorphic vehicles.
"Cars 2" takes a different direction from its predecessor, shifting the focus to the character of Mater, voiced by Larry the Cable Guy, who becomes involved in international espionage.
The film features an ensemble voice cast, including Owen Wilson reprising his role as Lightning McQueen and introducing Michael Caine as Finn McMissile, a British spy car.
"Cars 2" marked the directorial debut of John Lasseter's longtime collaborator, Brad Lewis.
The movie incorporates elements of spy films and globetrotting adventures, with locations ranging from Tokyo to Paris to London.
Despite receiving mixed reviews from critics, "Cars 2" was a commercial success, grossing over $560 million worldwide.
The film introduced several new characters, including Holley Shiftwell, voiced by Emily Mortimer, and the villainous Professor Zündapp, voiced by Thomas Kretschmann.
"Cars 2" was the first Pixar film to receive a PG-13 rating in Russia due to some of the intense action sequences.
The film features numerous visual gags and references to spy movies and international landmarks, adding a layer of fun and humor for audiences of all ages.
"Cars 2" expanded the "Cars" franchise and led to the creation of spin-off films, including "Planes" (2013) and "Planes: Fire & Rescue" (2014), which take place in the same universe.
---
Cars 2 Crew:
Director: John Lasseter
Producer: Denise Ream
Music: Michael Giacchino
---
Cars 2 Details
Cars 2 Trailer:
---