Here is everything you need to know about the amazing Pym Test Kitchen restaurant at Disneyland including history, reviews, fun facts, photos and more. I hope you find this listing informative and helpful!
Pym Test Kitchen | Disneyland Description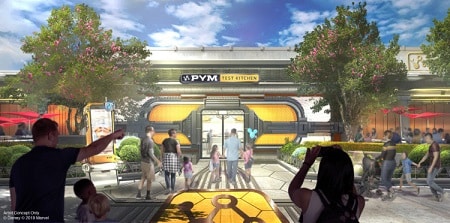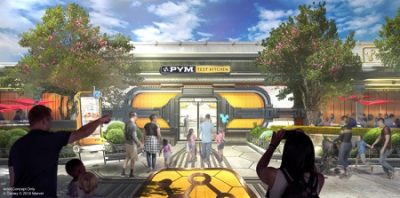 On an urgent mission to fight hunger? Head to Pym Test Kitchen for phenomenal food at unusual scales! Utilizing the revolutionary shrink-and-grow technology of Pym Particles, Ant-Man and The Wasp lead a team of research chefs as they pioneer a menu packed with inventive-sized entrees, tiny treats and shareable bites that provide the perfect power-up.
This old lab facility-turned-quick-service restaurant features a seating area and bar amidst décor that incorporates remnants of ongoing experiments—gigantic soda cans, humungous condiment bottles and massive cellphones recycled into menu boards. Stop by to taste-test their latest innovations in food science and conquer uncontrollable appetites on the spot!
---
Pym Test Kitchen | Disneyland Details
---
Pym Test Kitchen | Disneyland Reviews
---