Walt Disney World is a truly magical place with a unique mix of storytelling, environment, luxury, and downright pampering. A Disney World vacation is amazing any time of year, but none more so than Christmas time. Disney really goes all-out to celebrate the holidays at their largest resort.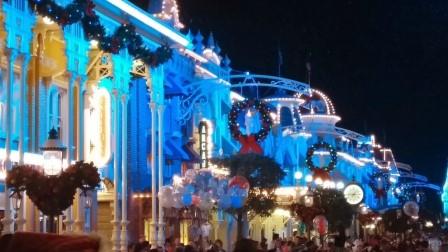 Even though the summer is just beginning, guests thinking about visiting a Disney park for the holidays need to start planning things out soon. Christmas at Walt Disney World Resort begins in most places on November 8th, 2019. Below is a complete rundown of what you can expect. As always, Disney World Christmas events and plans are fluid and I will be adding updates to this post if anything is added or changed.
Disney World Christmas Events and Attractions (2019):
The Most Magical Time of the Year at the Most Magical Place on Earth!
Magic Kingdom at Christmas
Much of Disney's holiday efforts are focused on the Magic Kingdom. The decorations alone are worth the visit and the park needs to be experienced in both night and day to get the full impact.
Mickey's Very Merry Christmas Party
Mickey's Very Merry Christmas Party returns to the Magic Kingdom again this year. The party requires an extra ticket but is well worth the spend. Attendees can expect amazing decorations, a great fireworks show and one of Disney World's best parades.
Dates for Mickey's Very Merry Christmas Party 2019 are as follows:
November: 8, 11, 12, 14, 15, 17, 19, 21, 22, 24
December: 1, 3, 5, 6, 8, 10, 12, 13, 15, 17, 19, 20, 22
I was fortunate to be able to visit Disney World recently and here is a quick taste of what you can expect from the Mickey's Very Merry Christmas Party parade:
Minnie's Wonderful Christmastime Fireworks Show
A new addition to this year's Magic Kingdom Christmas festivities is Minnie's Wonderful Christmastime Fireworks show. The show merges Disney's legendary fireworks talent with a number of our most beloved Christmas carols. Included in the show will be such standards as "Joy to the World," Deck the Halls," Upon the Housetop," "We Wish You a Merry Christmas" and more. The show is hosted by Minnie Mouse and is sure to be a favorite of Disney fans young and old.
A Frozen Holiday Wish
During the amazing stage show "A Frozen Holiday Wish," Cinderella Castle is lit up like Elsa's Ice Palace from "Frozen," which is a great one-of-a-kind photo-op. One can imagine that with Frozen 2 coming out this November, this show will have a little extra magic this year.
Jingle Cruise
Another fun Christmas attraction at the Magic Kingdom is the "Jingle Cruise." Disney overlays a Christmas theme to their Jungle Cruise ride to add a touch of holiday magic to the popular Adventureland attraction. There have been rumors each year for the past few that the Jingle Cruise would be going away as it did at Disneyland. We haven't heard definitively yet if the overlay will return for 2019, but will update this post as soon as Disney tells us one way or the other.
Sorcerers of the Magic
Last year, Disney added a little holiday magic to their popular Sorcerers of the Magic game. They've created a new game card featuring the Tiki Room birds in their festive attire. The special card was available only during Mickey's Christmas Party and could be picked up at the Firehouse on Main Street. It is unclear if the special game will return for 2019, but stay tuned and I will update this as soon as we hear from Disney.
Mickey's Most Merriest Celebration
Finally, visitors to the Magic Kingdom during Mickey's Christmas Party can enjoy a special holiday-themed show on the Cinderella Castle Forecourt Stage. Mickey's Most Merriest Celebration features Mickey and friends acting and singing Christmas carols in front of the amazing Ice Palace Castle.
More information about Mickey's Very Merry Christmas Party, including info on purchasing tickets for the party, can be found here.
Disney's Hollywood Studios at Christmas
Jingle Bell, Jingle BAM!
Disney's popular "Jingle Bell, Jingle BAM!" holiday nighttime show returns for its third year. It was first introduced in 2016 as a replacement for the uber-popular Osborne Family Spectacle of Lights, which concluded once the Streets of America was removed in favor of the new Star Wars: Galaxy's Edge area. Jingle Bell, Jingle BAM! runs from November 8, 2019 – January 5, 2020 and can be best viewed from the center area of Hollywood Studios, in front of the Chinese Theater structure.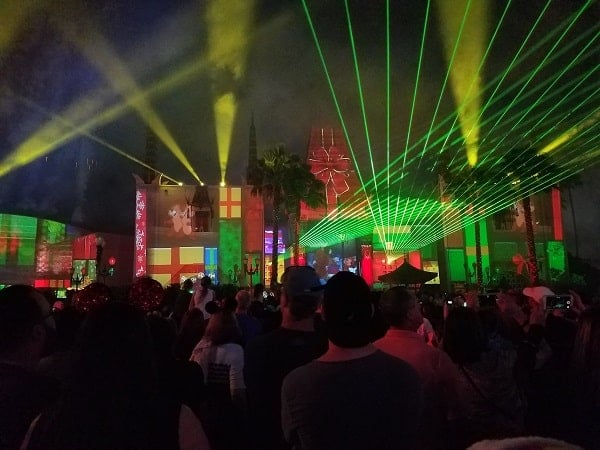 Sunset Seasons Greetings
Also returning this year to Hollywood Studios is Sunset Seasons Greetings. This holiday experience features spectacular projections of Mickey, Minnie and other beloved Disney characters sharing their favorite Christmas stories as a snowy Sunset Boulevard twinkles with stunning holiday decorations. Holiday magic brings billboards to life and transforms the famous Hollywood Tower Hotel into scenes of the season – a giant pile of Christmas gifts, a gingerbread house, and a frozen winter wonderland!
Toy Story Land
Your favorite Toy Story characters will be dressed in their holiday gear and Alien Swirling Saucers will be getting a holiday treatment featuring special holiday songs.
A Frozen Christmas Story
Returning this year will be a holiday overlay to the popular For the First Time in Forever: A Frozen Sing-Along show.  Guests attending the show will get to see the normal story, but with a few holiday twists and an amazing, special Christmas finale that is sure to put you in the holiday spirit.
Epcot at Christmas
International Festival of the Holidays
Epcot's World Showcase is the scene of a number of internationally-themed holiday celebrations. Visitors to Epcot's International Festival of the Holidays (formerly known as the "Holidays Around the World") at the World Showcase will enjoy special holiday food and drink offerings, shows, and visits from Santa and Mrs. Claus. Each country is themed to showcase how they celebrate the holidays in their native lands. The Epcot International Festival of the Holidays runs from November 29 through December 30, 2019.
Candlelight Processional
Additionally, Epcot plays host to the popular Candlelight Processional, which features a full orchestra, singers and celebrities telling the story of the Christmas Carol. The show is presented three times a night (5:00, 6:45 and 8:15 p.m) in the America Gardens Theater in the World Showcase. More information about this year's Candlelight Processional, including a full list of celebrity narrators, can be found here.
Chip & Dale's Christmas Tree Spree Scavenger Hunt
Chip & Dale will be hosting a special Christmas-themed scavenger hunt throughout Epcot this year. A special map and sticker purchase is required and participants will fan out around the park looking for the furry duo and their Christmas tree ornaments. Those who complete the challenge will receive a special 'festive surprise' from Chip 'n Dale.
Santa and Mrs Claus
Finally, guests to Epcot can pay a visit to Old St Nick and Mrs Claus at the American Adventure pavilion in World Showcase. Usually located just to the right of the show building (next to the Kidcot station), there isn't usually much of a line, making this a great opportunity for your kids to take a picture with the duo and let them know about any last-minute toy requests.
Holiday Cookie Stroll
Visitors to Epcot's International Festival of the Holidays can choose any five of the seasonal cookies listed in their Festival Passport and collect the matching stamp for each as they stroll World Showcase. Once five stamps are collected, the can collect their prize- a complimentary Santa Mickey Sugar Cookie. The prize can be picked up at any of the following Epcot Holiday Sweet & Treats location:
Bavaria Holiday Kitchen: Linzer Cookie
American Holiday Table: Gingerbread Cookie
Yukon Holiday Kitchen: Peppermint Pinwheel Cookie
Feast of the Three Kings: Chocolate Crinkle Cookie
L'Chaim! Holiday Kitchen: Black and White Cookie
Disney Springs at Christmas
Christmas Tree Trail
Disney Springs has always been a great place to visit (and shop) during the holidays and this year will be the third year Christmas is celebrated there. During the holidays, Disney Springs shops introduce new holiday products and decor. Additionally, Disney's unofficial fourth theme park is bringing back their popular Christmas Tree Trail which consists of an amazing 25 Christmas trees! The Christmas Tree Trail includes an abundance of Christmas decorations and elements and a number of Disney-themed Christmas Trees including:
Walt Disney World Theme Parks
Mickey & Minnie Mouse
Disney Villains
Also located on the Christmas Tree Trail is Santa's Chalet, where the Santa Claus will be welcoming guests through Christmas Eve. Please note that the wait times to meet Santa here tend to be pretty long, so if you have park tickets, you may have a better shot at a shorter Santa line at one of his other locations.
The Christmas Tree Trail and other Disney Springs Christmas activities offer a wonderful opportunity to grab a hot chocolate and stroll through a Winter Wonderland with loved ones and find that ultimate vacation keepsake or holiday gift.
Disney's Animal Kingdom at Christmas
Disney's Animal Kingdom has been hit or miss over the years  in terms of holiday celebrations. This year, it seems that the resort is putting a much greater focus on making the park festive. Some of the new Animal Kingdom Christmas offerings include:
A Christmas overlay on Discovery Island – This is being described as an immersive, magical scene of holiday decorations and settings.
Tree of Life – The park's iconic Tree' of Life will shimmer and sparkle at night and will awaken with a new holiday score.
Holiday Hoopla Dance Party with Chip 'n Dale – What is a Disney celebration with out a dance party. Kids will be able to head over to Dinoland USA to celebrate the holidays with their favorite Disney chipmunks at the 'Holiday Hoopla Dance Party with Chip 'n Dale.'.
Tusker House Character Meal – The popular character dinner at the Tusker House restaurant will be getting a holiday overlay this year.
Pandora – Guests visiting Pandora – The World of Avatar will be greeted by a mixture of imagined Pandora seasonal items along with traditional Christmas displays created by ex-Pats living on Pandora.
Here is a sneak peek at some of the festive decorations you can expect at Disney's Animal Kingdom this Christmas:
There will also be a giant Christmas tree greeting visitors at the park entrance. This tends to be one of the better Christmas Trees at Walt Disney World for family photos as the wait is generally shorter and it is a very impressive display.
Disney World Resorts at Christmas
Each Disney resort hotel does their own thing for Christmas, but one display you MUST see is the gigantic gingerbread house at the Grand Floridian Resort & Spa. The display is located in the main lobby of the resort and is one of the most impressive holiday decorations you will ever see. Your family will love it!
Other Disney World resorts that are worth a special trip to at Christmas include Disney's Wilderness Lodge, Disney's Animal Kingdom Lodge, Disney's Beach Club, Disney's Yacht Club, and The Contemporary Resort. These deluxe resorts all do an amazing job at decorating for the holidays and their lobbies are definitely worth a stroll through.
Finally, I cannot write a post about Christmas at Walt Disney World without mentioning Disney's Fort Wilderness Resort and Campground where the campers go all-out decorating their RV's with holiday decorations. The campground is essentially just across Bay Lake from the Magic Kingdom, but it seems like a completely different world when you enter it.
There you have it folks- Everything we know that is going on at Disney World this Christmas. Like I mentioned earlier, if you have the opportunity to make it down to Bay Lake this Christmas, it is well worth the effort. It is amazing. I will be taking my family down in November and will be sure to post new pics, videos, reviews and more, so be sure to stay tuned and subscribe to my updates!
---
Interested in visiting Walt Disney World this holiday season? If you are considering a trip, I'd strongly recommend chatting with a certified Disney Travel Agent, who can help you plan your customized dream vacation. Planning a Disney vacation can be complicated, confusing and overwhelming. Even more so during the holidays. A certified DTA can help you maximize your vacation enjoyment.
To get your free no-obligation vacation quote, please fill out the brief form below to contact Kristy at Love the Mouse Travel. Kristy is a certified Disney Travel Agent and vacation planning expert who can help you build that perfect Disney trip (Disclaimer: in addition to being an excellent DTA, Kristy is also my wife, so yes, I am a bit biased, but really, she is great!). Kristy has planned countless vacations, including all of our family's and her vacationers love working with her. Her services are free to her clients, so fill out the brief form below today to see what options are available to you.
Please note: In case it is not abundantly obvious, because I am recommending my wife, I stand to benefit financially from you using her services. Her fees, as well as her employer's are paid by Disney and do not cost you anything extra. Seriously, it is an awesome opportunity to get the most out of your trip and I highly recommend it!