Here is everything you need to know about the amazing TRON Lightcycle Run at Walt Disney World's Magic Kingdom including history, reviews, fun facts, photos and more. I hope you find this listing informative and helpful!
TRON Lightcycle Run | Disney World Description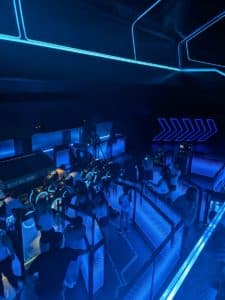 Leave the real world behind and join Team Blue in a quest across the Grid—the dark, computerized world with no horizons from TRON. Here, there's no limit to the excitement.
Climb aboard your very own Lightcycle and take off on a high-speed adventure, racing against the Grid's most menacing Programs. Surge past your fierce opponents as you attempt to cross through 8 Energy Gates and secure your team's victory.
TRON Lightcycle / Run is one of the fastest coasters at any Disney theme park in the world.
---
TRON Lightcycle Run | Disney World Details
TRON Lightcycle Run | Disney World Experience:
---
---