Here is everything you need to know about the amazing Disney movie Tron including casting, reviews, fun facts and more. I hope you find this listing informative and helpful!
Description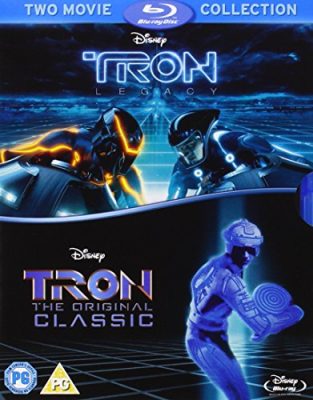 "Tron" is a science fiction film released in 1982, produced and distributed by Walt Disney Productions. The movie was directed by Steven Lisberger and became one of the first films to extensively use computer-generated imagery (CGI).
The story of "Tron" follows Kevin Flynn (played by Jeff Bridges), a computer programmer and former employee of ENCOM, a large software company. Flynn is trying to prove that his former colleague, Ed Dillinger (played by David Warner), stole his video game ideas and became a successful executive at ENCOM. In an attempt to find evidence, Flynn hacks into ENCOM's computer system, but he is digitized and transported into the virtual world inside the computer.
Inside the digital world, Flynn finds himself in a digital landscape known as the Grid, where programs and users coexist. He meets Tron (played by Bruce Boxleitner), a security program, and together they try to navigate the challenges and dangers of the digital world. Flynn's main goal is to defeat the Master Control Program (MCP), an artificial intelligence that has become corrupt and oppressive, and expose Dillinger's theft of his work.
The film showcases groundbreaking visual effects for its time, with a unique combination of computer animation and live-action sequences. It was well-received for its innovative approach to visual storytelling and the depiction of the digital world. "Tron" also became a cult classic and was followed by a sequel, "Tron: Legacy," released in 2010.
The movie's impact on popular culture was significant, as it introduced the concept of a virtual world inside a computer and influenced the development of video games and computer graphics in the entertainment industry. "Tron" remains an important milestone in the history of CGI and science fiction filmmaking, and it holds a special place in the hearts of many fans.
---
Tron Fun Facts
The movie's director was originally inspired by the video game Pong.
This was one of the first movies ever to use computer animation.
Pac-Man actually appears in the movie.
There is a hidden Mickey in the movie.
Tron was aired on The Disney Channel on the station's first day.
---
Crew:
Director: Steven Lisberger
Producer: Donald Kushner
Music: Wendy Carlos
---
Additional Details
---
Tron Trailer:
---