Here is everything you need to know about Walt Disney World's Epcot's Test Track ride including history, fun facts, photos and more. I hope you find this listing informative and helpful!
Description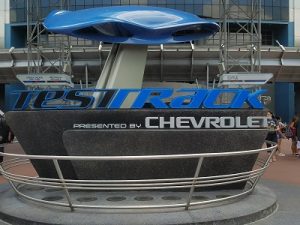 Test Track is an exhilarating and immersive attraction located in Epcot's Future World at Walt Disney World Resort, Florida. This thrilling ride takes guests on a high-speed adventure through the world of automotive design and testing, offering an interactive and entertaining experience for visitors of all ages.
Formerly known as World of Motion, Test Track was reimagined and reopened in 2012 with a new futuristic design and theme. The attraction allows guests to become "test drivers" as they design and simulate their own virtual concept vehicles.
The adventure begins as guests enter the Chevrolet Design Center, where they have the opportunity to create a customized vehicle using interactive touch-screen technology. Guests can make choices on vehicle shape, color, wheels, and more, allowing them to tailor the car to their preferences.
After designing their virtual ride, guests board a six-passenger "SIM Car" and embark on a thrilling test drive through various test scenarios. The car navigates through a series of tests, including a brake test, a temperature test, and an acceleration test. During the acceleration test, the car races around the outside track, reaching speeds of up to 65 miles per hour, making it one of the fastest attractions at Walt Disney World.
Throughout the ride, guests can see how their virtual car performs in real-time, with the results displayed on in-car digital screens. The experience is enhanced with wind, sound effects, and special effects, immersing guests in the excitement of a high-speed test drive.
Test Track is not only a thrilling attraction but also an educational experience that showcases the innovation and technology behind vehicle design and testing. It aligns with Epcot's mission to celebrate human achievement and the possibilities of the future.
As with all attractions at Walt Disney World, the availability and operation of Test Track may be subject to change, so it's always a good idea to check the latest information on the official Disney website or the My Disney Experience app before your visit.
Whether you're a car enthusiast or just looking for an adrenaline-pumping adventure, Test Track offers a unique and unforgettable experience that combines creativity, technology, and speed, making it a must-visit attraction at Epcot for guests seeking an exciting journey into the world of automotive innovation.
---
Fun Facts
This is the fastest Disney ride ever built (64.9 mph).
The ride was significantly refurbished in 2012.
Test Track replace the popular World of Motion ride, but there are still a few subtle tributes to the former attraction that can be found around the ride.
The ride is designed to simulate a high-speed test drive of a new car prototype, and includes a variety of challenging test tracks, such as curves, hills, and straightaways, that put the car's handling, braking, and acceleration to the test.
Test Track was one of the first rides at Epcot to incorporate interactive elements, allowing guests to design their own virtual car and then test it on the ride.
The ride has undergone several renovations over the years, including a major refurbishment in 2012 that added new interactive elements, a new queue area, and an updated storyline.
Test Track is known for its high-speed thrills and innovative technology, and continues to be a popular attraction among guests of all ages.
Test Track is also an important part of Epcot's focus on technology and innovation, and helps to showcase the latest advancements in automotive technology and design.
---
Important Details
---