Here is everything you need to know about Walt Disney World's Epcot's Test Track ride including history, fun facts, photos and more. I hope you find this listing informative and helpful!
Test Track | Disney World Description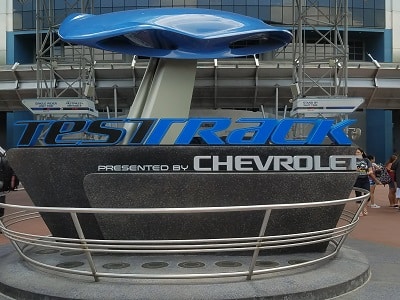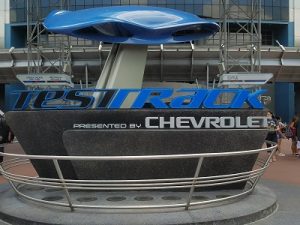 Design a virtual concept vehicle and then go for a high-octane spin at this attraction that's thrilling and creative.
Buckle up in a 6-passenger "simulation car" and put a virtual vehicle that you created to the test.
Stroll into a gleaming, state-of-the-art facility and cruise past eye-opening exhibits illustrating the forward-thinking innovation and technology of Chevrolet. Steer your way inside the Chevrolet Design Center and—working at an illuminated station—design your own virtual custom concept vehicle based on the following test criteria:
Capability (handling)
Responsiveness (maneuverability)
Efficiency (fuel-saving and environmentally friendly)
Power (speed)
Add some finishing touches to your design before boarding a special "SIM Car" and taking off on a fun-filled driving evaluation.
The Test Drive
Discover how your custom concept vehicle performs thanks to easy-to-read visual charts as you rev through rough terrain and obstacles along the winding Test Track circuit. Fly through straight-aways, maneuver switchbacks through inclement weather, hug curves banked at 50-degree angles and scale hills that are up to 3-stories high!
---
Test Track | Disney World Fun Facts
This is the fastest Disney ride ever built (64.9 mph).
The ride was significantly refurbished in 2012.
Test Track replace the popular World of Motion ride, but there are still a few subtle tributes to the former attraction that can be found around the ride.
The ride is designed to simulate a high-speed test drive of a new car prototype, and includes a variety of challenging test tracks, such as curves, hills, and straightaways, that put the car's handling, braking, and acceleration to the test.
Test Track was one of the first rides at Epcot to incorporate interactive elements, allowing guests to design their own virtual car and then test it on the ride.
The ride has undergone several renovations over the years, including a major refurbishment in 2012 that added new interactive elements, a new queue area, and an updated storyline.
Test Track is known for its high-speed thrills and innovative technology, and continues to be a popular attraction among guests of all ages.
Test Track is also an important part of Epcot's focus on technology and innovation, and helps to showcase the latest advancements in automotive technology and design.
---
Test Track | Disney World Details
Disney Resort: Walt Disney World Resort
Disney Park: Epcot
Attraction Type: Ride
Year Opened: 1999
Replaced: World of Motion
---