Here is everything you need to know about Walt Disney World's Magic Kingdom's Mad Tea Party ride including history, fun facts, photos and more. I hope you find this listing informative and helpful!
Mad Tea Party Description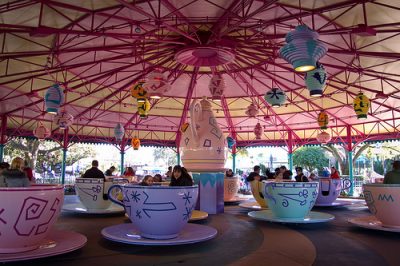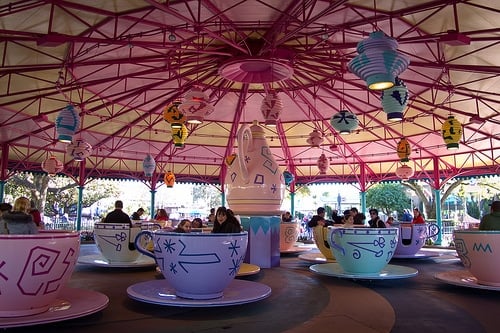 At the Mad Tea Party, located in Walt Disney World Magic Kingdom's Fantasyland, spin 'round and 'round in a giant pastel teacup during a madcap music-filled adventure.
Pour yourself into an oversized teacup and twirl quickly or slowly amid a menagerie of color and sound. Celebrate your "un-birthday" in Wonderland as you sail back and forth around a towering teapot beneath a windswept party of paper lanterns, as festive music fills the air.
The Tea Cups
Each teacup holds up to 5 Guests—there are 18 decorative cups in all. As the party gets underway, the cups swirl atop 3 turntables, which are mounted on one larger turntable. It's a crazy contraption you'd half expect to find somewhere in Wonderland! (source)
---
Mad Tea Party Fun Facts
The ride made its debut on opening day in 1971 without s canopy, but one was added in 1974.
---
Mad Tea Party Details
---