Here is everything you need to know about Walt Disney World's Magic Kingdom's Mad Tea Party ride including history, fun facts, photos and more. I hope you find this listing informative and helpful!
Mad Tea Party | Disney World Description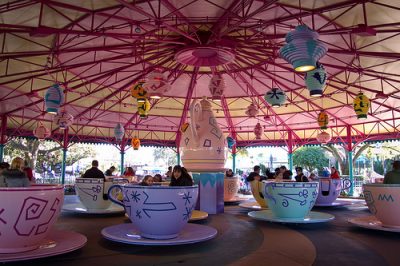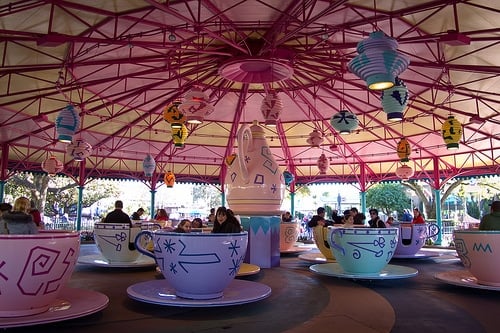 Mad Tea Party, also known as the "Teacups," is a classic and whimsical spinning teacup attraction located in Fantasyland at Magic Kingdom at Walt Disney World Resort in Florida. This iconic ride is based on the "Unbirthday Party" scene from Disney's animated film "Alice in Wonderland."
The attraction's name, "Mad Tea Party," is derived from the lively and unpredictable tea party hosted by the Mad Hatter and the March Hare in Wonderland.
As guests approach the Mad Tea Party, they are drawn to the colorful and ornate teacup-themed ride vehicles, each featuring a unique design and vibrant hues. The attraction's centerpiece is a large, pastel-colored teapot, pouring tea onto the "spinning saucers" that house the teacups.
Once on board, guests can use a central wheel to spin their teacup as fast or as slow as they like, creating a personalized and dizzying experience. The spinning motion of the teacups, combined with the whimsical music and vibrant lighting, adds to the fun and fantasy of the ride.
One of the most magical aspects of the Mad Tea Party is its interactive nature. Guests can enjoy the ride with friends and family, working together to control the spinning of the teacup. This makes it a delightful attraction for guests of all ages to enjoy together.
The Mad Tea Party has become an enduring symbol of Disney's theme park magic, offering guests a nostalgic and enchanting experience that has been cherished for generations.
---
Mad Tea Party | Disney World Fun Facts
The ride made its debut on opening day in 1971 without s canopy, but one was added in 1974.
---
Mad Tea Party | Disney World Details