Here is everything you need to know about the amazing Disney movie Alice in Wonderland including casting, reviews, fun facts and more. I hope you find this listing informative and helpful!
Alice in Wonderland Description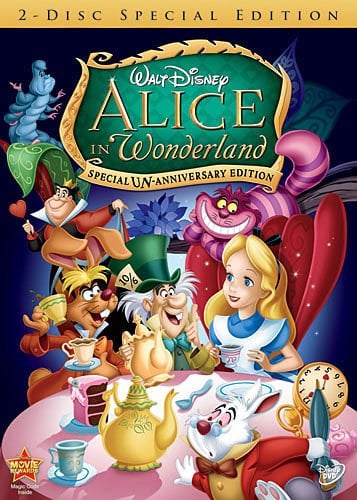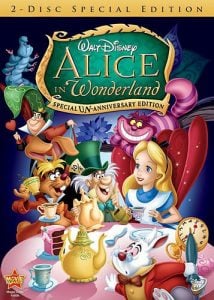 "Alice in Wonderland" is a 1951 animated film produced by Walt Disney Productions. It is based on the classic novel by Lewis Carroll, "Alice's Adventures in Wonderland."
The movie follows the imaginative and curious Alice, a young girl who falls down a rabbit hole into a whimsical and nonsensical world called Wonderland. There, she encounters a variety of eccentric characters, including the White Rabbit, the Cheshire Cat, the Mad Hatter, and the Queen of Hearts. Throughout her journey, Alice experiences strange and surreal adventures while trying to find her way back home.
Directed by Clyde Geronimi, Wilfred Jackson, and Hamilton Luske, "Alice in Wonderland" captures the surreal and imaginative nature of Carroll's novel. It features colorful and vibrant animation, catchy songs, and memorable characters that have become iconic within the Disney canon.
The film showcases Disney's unique interpretation of Wonderland, emphasizing the visual spectacle and nonsensical elements of the story. It combines comedy, adventure, and whimsy to create a captivating and magical experience for viewers.
While the film initially received mixed reviews upon its release, "Alice in Wonderland" has since gained a significant following and is considered a classic in the Disney animated film library. It continues to be celebrated for its imaginative storytelling, memorable songs like "The Unbirthday Song" and "Painting the Roses Red," and its vibrant portrayal of Wonderland and its inhabitants.
"Alice in Wonderland" remains a beloved and influential film that has sparked the imagination of audiences for decades, inviting them to dive into a world where nothing is as it seems.
---
Alice in Wonderland Fun Facts
Kathryn Beaumont, who voiced Alice, also provided the voice for Wendy in Peter Pan.
The character of Alice was animated to resemble the actress who portrayed her in the live-action segments of the film, named Kathryn Beaumont.
Walt Disney personally selected the voice actors for the film, which included such talented performers as Ed Wynn, Sterling Holloway, and Verna Felton.
The iconic Cheshire Cat's grin is the last thing to disappear in the film's final shot.
The film was nominated for an Academy Award for Best Original Score.
The movie has been adapted into numerous stage productions, including an operetta and a ballet.
The Mad Hatter's design was inspired by a combination of Lewis Carroll's description in the book and Walt Disney's own fascination with top hats.
---
Alice in Wonderland Cast:
Kathryn Beaumont: Alice
Ed Wynn: Mad Hatter
Jerry Colonna: March Hare
Richard Haydn: Caterpillar
Sterling Holloway: Cheshire Cat
Verna Felton: Queen of Hearts
J. Pat O'Malley: Tweedledum and Tweedledee/Walrus and Carpenter/Mother Oyster
Bill Thompson: White Rabbit/The Dodo
Heather Angel: Alice's sister
Joseph Kearns: Doorknob
Larry Grey: Bill the Lizard/Card Painter
Queenie Leonard: A Bird in a Tree/Snooty Flower
Dink Trout: King of Hearts
Doris Lloyd: The Rose
Jimmy MacDonald: Dormouse
The Mellomen (Thurl Ravenscroft, Bill Lee, Max Smith, and Bob Hamlin): Card Painters
Don Barclay: Other Cards
Lucille Bliss: Flowers
Pinto Colvig: Flamingos
Tommy Luske: Young Pansy
Marni Nixon: Singing Flowers
Norma Zimmer: White Rose
---
Alice in Wonderland Crew:
Directors: Clyde Geronimi, Wilfred Jackson and Hamilton Luske
Producer: Walt Disney
Writers: Milt Banta, Del Connell, William Cottrell, Joe Grant, Winston Hibler, Dick Huemer, Dick Kelsey, Tom Oreb, Bill Peet, Erdman Penner, Joe Rinaldi, Ted Sears and John Walbridge
Music: Oliver Wallace
---
Alice in Wonderland Details
Alice in Wonderland Trailer:
---