Here is everything you need to know about the amazing Disney series Adventures in Wonderland  including casting, episodes, fun facts and more. I hope you find this listing informative and helpful!
Adventures in Wonderland  Description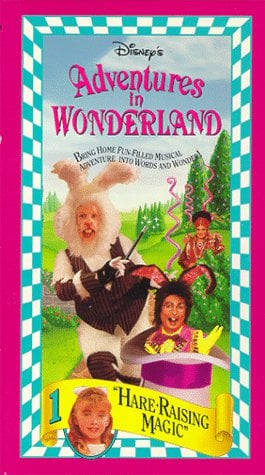 "Adventures in Wonderland" is a live-action/animated hybrid television series that aired from 1992 to 1995 as part of Disney's "One Saturday Morning" lineup on ABC. The show was inspired by Lewis Carroll's classic novel "Alice's Adventures in Wonderland" and its sequel "Through the Looking-Glass."
The series follows the adventures of Alice, a young girl who accidentally falls through her TV set into Wonderland. Once in Wonderland, Alice becomes friends with a diverse cast of colorful and whimsical characters, including the White Rabbit, the Mad Hatter, the Cheshire Cat, the Queen of Hearts, and many others.
"Adventures in Wonderland" features a mix of live-action performances by the human characters and animated segments for the Wonderland inhabitants. The show combines comedy, music, and clever wordplay, capturing the surreal and nonsensical spirit of Lewis Carroll's original stories.
Each episode of "Adventures in Wonderland" revolves around a unique storyline and a moral lesson for young viewers. Alice often finds herself in absurd situations, and with the help of her new friends, she learns valuable life lessons about problem-solving, friendship, and understanding the consequences of her actions.
The series gained popularity for its imaginative storytelling, witty humor, and catchy musical numbers. The theme song, "Adventures in Wonderland," became a memorable tune among fans.
"Adventures in Wonderland" aimed to entertain children while staying true to the spirit of the original literary works by Lewis Carroll. The show provided a modern and kid-friendly adaptation of the classic stories, introducing a new generation of viewers to the enchanting world of Wonderland.
Throughout its run, "Adventures in Wonderland" received critical acclaim and garnered a dedicated fan base. Although the show concluded in 1995, it remains a beloved part of Disney's television history and continues to be remembered fondly by those who enjoyed its whimsical and imaginative take on the timeless tale of Alice and her adventures in Wonderland.
---
Adventures in Wonderland  Cast:
Elisabeth Harnois: Alice
John Robert Hoffman: The Mad Hatter
Reece Holland: The MArch Hare
Armelia McQueen: The Red Queen
Patrick Richwood: The White Rabbit
Harry Waters Jr.: Tweedle Dee
Robert Barry Fleming: Tweedle Dum
Wesley Mann: The Caterpillar
Richard Kuhlman: The Cheshire Cat
John Lovelady: The Dormouse
---
Adventures in Wonderland  Details:
Adventures in Wonderland  Trailer:
Buy Movie
---
Adventures in Wonderland  Episode List:
1 – Herstory in the Making
2 – Lip-Sunk
3 – Red Queen for a Day
4 – Objects d'Heart
5 – Arrivederci Aroma!
6 – The Bunny Flop
7 – Pop Goes the Easel
8 – Through the Looking Glasses
9 – That's All, Jokes!
10 – Forget Me Knot
11 – Boo, Who?
12 – Double Your Bunny
13 – Diary of a Mad Hatter/Keep It Under Your Hat
14 – How the West Was Wonderland
15 – The Rules of the Game
16 – Something to Sneeze At
17 – Off the Cuffs/Hare-Raising Magic
18 – Tooth or Consequences
19 – The Wonderland Enquirer
20 – The Hatter Who Came to Dinner
21 – The Mirth of a Nation
22 – For Better or Verse
23 – TechnoBunny
24 – Party-Pooped
25 – Up and Anthem
26 – Pretzelmania/The Missing Ring Mystery
27 – White Elephant Sale
28 – Rip-Roaring Rabbit Tales/Rabbit Without a Cause
29 – Happy Boo Boo Day
30 – What Makes Rabbit Run
31 – Friday the Umpteenth
32 – Pizza De Resistance
33 – A Litter Help From My Friends
34 – Busy as a Spelling Bee
35 – Hic-Hic Hooray
36 – He's Not Heavy, He's My Hatter
37 – Invasion of the Tweedle Snatchers
38 – Bubble Trouble
39 – The Bunny Who Would Be King
40 – Welcome Back Hatter
41 – Noses Off
42 – This Bunny for Hire
43 – All That Glitters/Forbidden Fruit
44 – Whose Carrots Are They, Anyway?
45 – Say It Again, Ma'am!
46 – Lady and the Camp
47 – Gowns and Roses
48 – Dinner Fit for a Queen
49 – Toot-Toot-Tootsies, Goodbye
50 – The Red Queen Crown Affair
51 – Copy-Catter Hatter
52 – Queen of the Beasts/The Greatest Story Never Sold
53 – Vanity Hare
54 – The Best Ears of Our Lives
55 – Fiesta Time
56 – Hair'em Scare'em/The Girl With Green Hair
57 – A Change of Heart
58 – On a Roll
59 – The Grape Juice of Wrath
60 – Homing Pigeons
61 – From Hare to Eternity
62 – ChAlice in Wonderland
63 – Hippity Hoppity Hypnotist
64 – Christmas in Wonderland
65 – The Day of the Iguana
66 – I Am the Walrus
67 – Weed Shall Overcome
68 – Deface in the Crowd
69 – TV or Not TV?
70 – The Days of Vine and Roses
71 – The Clan of the Cavebunny
72 – Metaphor Monday
73 – Game Shows People Play
74 – The Adventures of Spectacular Man
75 – For Hare Eyes Only
76 – To Tear Is Human
77 – Odd Woman Out
78 – Time Warped
79 – Give Ants a Chance
80 – Card 54, Where Are You?
81 – Your Cheatin' Red Heart
82 – Wonderland: The Movie
83 – Bunny, Can You Spare a Dime?
84 – The Royalty Trap
85 – Just the Fax, Ma'am/Duchess Treat
86 – Take the Bunny and Run/Other People's Bunny
87 – Gratitude Adjustment
88 – Pie Noon
89 – Untwist of Fate
90 – Queen's Best Friend
91 – Purple Potato Eaters
92 – The Queen Who Came in From the Cold
93 – The Color of Wobucks
94 – Take My Tonsils, Please
95 – The Sound and The Furry
96 – Hats Off to the King
97 – Those Tusks, Those Eyes
98 – Bah, Hamburger
99 – White Rabbits Can't Jump'
100 – A Wonderland Howl-oween
---