Here is everything you need to know about the amazing Cheshire Café Restaurant at Walt Disney World's Magic Kingdom including history, reviews, fun facts, photos and more. I hope you find this listing informative and helpful!
Description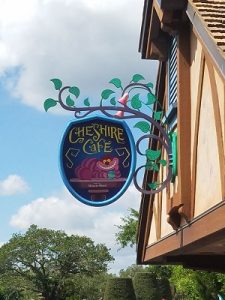 The Cheshire Café is a quick-service restaurant located in Fantasyland at Disney World's Magic Kingdom park. The restaurant is named after the mischievous Cheshire Cat from the classic Disney movie "Alice in Wonderland."
The Cheshire Café serves a variety of snacks and drinks, including coffee, tea, lemonade, and slushies. Some of the most popular items on the menu include the Cheshire Cat Tail, a sweet pastry shaped like a cat's tail, and the Wonderland Slush, a colorful frozen drink that comes in different flavors.
The restaurant's colorful decor and playful design are inspired by the whimsical world of "Alice in Wonderland," with nods to characters like the White Rabbit and the Mad Hatter. The Cheshire Café is a popular spot for families and Disney fans to grab a quick bite or a refreshing drink while exploring the park.
---
Fun Facts
This location originally opened in 1973 as the Fantasyland Art Festival.
---
Important Details
---
Reviews
---