Here is everything you need to know about Walt Disney World's Magic Kingdom's Haunted Mansion ride including history, fun facts, photos and more. I hope you find this listing informative and helpful!
Haunted Mansion | Disney World Description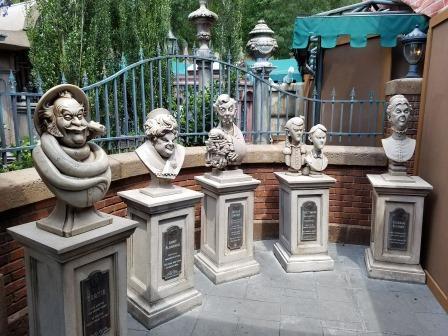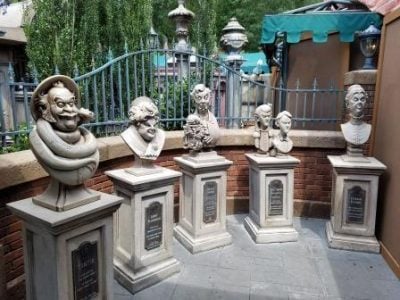 The Haunted Mansion is a dark ride attraction located in the Magic Kingdom at Walt Disney World Resort in Florida. The attraction is based on a haunted house, and features special effects and animatronics to simulate ghosts and other supernatural beings.
The attraction features a variety of scenes including a spooky graveyard, a haunted ballroom, and a ghostly kitchen, among others. The attraction is known for its spooky and humorous tone, and its memorable characters, such as the ghostly butler, the Hitchhiking Ghosts, and the Hatbox Ghost. It's one of the most popular and iconic attractions in Disney World, and has been entertaining guests since 1971. The attraction has a similar version in Disneyland California and other Disney theme parks around the world.
---
Haunted Mansion | Disney World Fun Facts
The ride's exit features a small pet cemetery with a tribute to Mr Toad, which was placed there when Mr Toad's Wild Ride shut down in 1998.
The ride was originally supposed to be a walk-through attraction.
The attraction was originally supposed to have a feature called the "Museum of the Weird."
The ride has 160 buggies and travels at roughly 1.5 miles per hour.
There is a hidden Mickey in the ballroom scene. Look at the place settings…
The special effect that makes the ballroom scene seem so realistic is a trick called 'Peppers Ghost," which is named after scientist John Henry Pepper. The effect uses glass to reflect a room that is unseen to the viewer. Other examples of this effect are the Blue Fairy in Disneyland's Pinocchio's Daring Journey and the 3D hologram of Tupac Shakur at Coachella in 2012. Modern day teleprompters also use the basic premise of Peppers Ghost.
There was an unsuccessful live-action movie based on this ride starring Eddie Murphy released in 2003.
The stretching room actually does stretch as opposed to the elevator mechanism in the Disneyland version.
This is the most popular Disney ride for guests to try to spread the ashes of loved ones on.
The hitchhiking ghosts at the end of the ride actually have names. They are Ezra, Gus and Phineas.
The ride has a few recognizable voices in it:

Ghost Host: Paul Frees (no, its not Vincent Price), who played the Pillsbury Doughboy, Burgermeister Meisterburger  in the claymation Santa Claus is Comin to Town.
Singin Bust in Graveyard (the one that looks like Walt Disney): Thurl Ravenscroft, who was Tony the Tiger, played Fritz in the Tiki Room and sang "You're a Mean One Mr Grinch."
Madame Leota: Eleanor Audley, who was Lady Tremaine in Cinderella and Maleficent in Sleeping Beauty.
---
Haunted Mansion | Disney World Details
---