Pinocchio's Daring Journey (Disneyland)
Here is everything you need to know about the amazing Pinocchio's Daring Journey attraction at Disneyland including history, reviews, fun facts, photos and more. I hope you find this listing informative and helpful!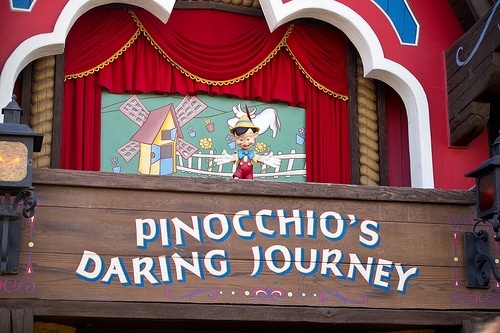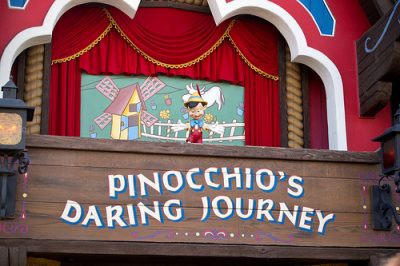 Pinocchio's Daring Journey Description:
In Pinocchio's Daring Journey, belive the thrilling adventures of Pinocchio, from a wooden puppet to a real boy.
No Strings Attached 
Begin your journey aboard a woodcarver's cart inside the Stromboli Puppet Theatre, where Pinocchio can be seen singing and dancing in a festive marionette show. Avoid the clutches of evil puppet-master Stromboli—with help from the kindhearted Blue Fairy—and follow the boy puppet as he ventures to Pleasure Island, against the warnings of helpful Jiminy Cricket. Glide past a frenetic carnival confection of childish amusements—then noisy barkers, a creepy clown and a looming Jack in the Box—before escaping to the sea where the great and mighty Monstro the Whale awaits.
Will Pinocchio ever find his way back to his maker Gepetto and become a real boy? Like the story goes, if you believe, anything is possible.
Photo by HarshLight
Disney Character(s) in this Post:
Geppetto (Pinocchio)