Here is everything you need to know about the amazing Disney movie The Haunted Mansion  including casting, reviews, fun facts and more. I hope you find this listing informative and helpful!
The Haunted Mansion  Description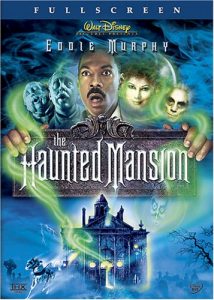 Eddie Murphy stars as a real estate agent whose family comes face-to-face with 999 grim, grinning ghosts in the creepy old Gracey Manor! Now, with the help of supernatural psychic Madame Leota, they must hilariously battle to break the mansion of its age-old curse, and do it before the clock strikes 13!
Related Music:
---
The Haunted Mansion  Cast:
Eddie Murphy: Jim Evers
Terence Stamp: Ramsley
Nathaniel Parker: Master Edward Gracey
Marsha Thomason: Sara Evers
Jennifer Tilly: Madame Leota
Wallace Shawn: Ezra
Dina Waters: Emma
Marc John Jefferies: Michael Evers
Aree Davis: Megan Evers
The Dapper Dans: The Singing Busts
Deep Roy, Jeremy Howard: the Hitchhiking Ghosts
Corey Burton: The Ghost Host
---
The Haunted Mansion  Crew:
Director: Rob Minkoff
Producers: Andrew Gunn and Don Hahn
Music: Mark Mancina
---
The Haunted Mansion  Details
The Haunted Mansion  Trailer:
Buy Movie
---