Here is everything you need to know about the amazing Disney movie Teacher's Pet including casting, reviews, fun facts and more. I hope you find this listing informative and helpful!
Teacher's Pet Description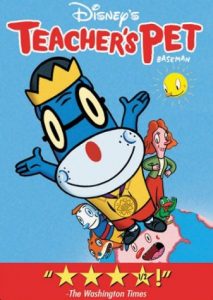 Meet Spot, a clever little dog with big dreams of becoming a real boy. When Spot finds out that a crazy scientist can make his wish come true, he takes a cross-country trek with his best friend and master Leonard and their mom. However, Dr. Krank's experiments are a little less than perfect, and it will take Leonard and his pet pals to right this genetic wrong in Disney's Teacher's Pet.
---
Teacher's Pet Cast:
Nathan Lane: Spot Helperman / Scott Leadready II / Scott Manly-Manning
Shaun Fleming: Leonard Amadeus Helperman
Debra Jo Rupp: Mary Lou Moira Angela Darling Helperman
Kelsey Grammer: Dr. Ivan Krank
David Ogden Stiers: Mr. Jolly
Jerry Stiller: Pretty Boy
Rosalyn Landor: The Blue Fairy
Paul Reubens: Dennis
Megan Mullally: Adele
Wallace Shawn: Principal Crosby Strickler
Rob Paulsen: Ian Wazselewski
Estelle Harris: Mrs. Boogin
Jay Thomas: Barry Anger
Genie Ann Francis: Marsha / Marcia
Anthony Geary: John / Juan
Mae Whitman: Leslie Dunkling
Lauren Tom: Younghee
Pamela S. Adlon: Trevor / Taylor / Tyler
Timothy Stack: Father
Emma Steinkellner: Little girl
Ken Swofford: Officer White
Kevin M. Richardson: Conductor
---
Teacher's Pet Crew:
Director: Timothy Björklund
Producer: Stephen Swofford
Music: Stephen James Taylor
---
Teacher's Pet Details
Teacher's Pet Trailer:
---