Gosalyn Mallard (Darkwing Duck)
Last Updated on: January 15th, 2023
Who is Gosalyn Mallard?
Gosalyn Waddlemeyer-Mallard is a fictional character from the Disney animated series "Darkwing Duck." She is the adopted daughter of the series' main character, Darkwing Duck (also known as Drake Mallard), and serves as his sidekick and partner in crime-fighting. Gosalyn is a spunky and energetic girl who idolizes Darkwing and often helps him in his crime-fighting efforts. She is also known for her intelligence and resourcefulness, as well as her love of danger and adventure. Despite her bravery, she is also a typical child who has to go to school and deal with her own problems.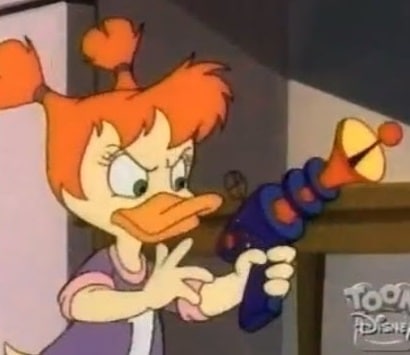 She was originally voiced by actress Christine Cavanaugh who was best known as the voice of Chuckie Finster in the 1990's Nickelodeon series Rugrats.
The Collection:
Here is the Internet's largest collection of Gosalyn Mallard -related movies, TV shows, toys and other products. As always, new pieces are added to this collection regularly.
Show Appearances
---
---