Here is everything you need to know about the amazing Disney series Darkwing Duck including casting, episodes, fun facts and more. I hope you find this listing informative and helpful!
Darkwing Duck Description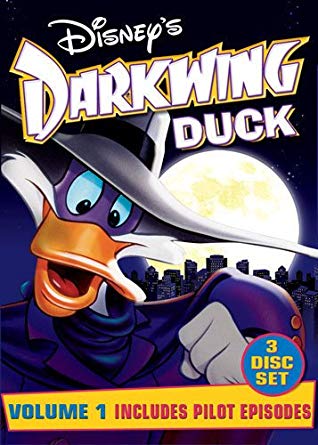 Darkwing Duck was a popular Disney Afternoon children's show that ran from 1991-1992. It was a spinoff of its Disney Afternoon counterpart, DuckTales.
Villains beware! Caped crime fighter Darkwing is on the job. With his loyal sidekick, Launchpad, and a whole bunch of zany high-tech gadgets, Darkwing does his best to keep the city of St. Canard safe — and that's the easy part of his day! Darkwing must juggle the responsibilities of being a superhero and being a dad to nine-year-old Gosalyn.
---
Darkwing Duck Cast:
Darkwing/Drake Mallard: Jim Cummings
Launchpad McQuack: Terry McGovern
Gosalyn Mallard: Christine Cavanaugh
Gizmoduck / Fenton Crackshell: Hamilton Camp
Morgana Macawber: Kath Soucie
---
Darkwing Duck Details:
Year of Debut: 1991
Year of Finale: 1992
Type of Series: Animated
TV Channel/Platform: Disney Afternoon
Darkwing Duck Trailer:
Buy Movie
---