Drake Mallard (Darkwing Duck)
Last Updated on: January 15th, 2023
Who is Drake Mallard?
Drake Mallard, also known as Darkwing Duck, is the main character in the Disney animated series "Darkwing Duck". He is a superhero who fights crime in the city of St. Canard. Drake Mallard is a parody of the superhero genre, specifically Batman. He is an egotistical, yet heroic, duck who is often more concerned with his own image and reputation than with catching criminals. He is voiced by Jim Cummings. He has a sidekick named Launchpad McQuack and his daughter Gosalyn. Together with his friends, he fights against a variety of villains, such as the evil sorcerer Morgana Macawber, the criminal organization F.O.W.L., and the mutant supervillain Negaduck. Despite his flaws, Darkwing is a dedicated and skilled crime fighter who always tries to do the right thing.
The Collection:
Here is the  Internet's largest collection of Drake Mallard (Darkwing Duck) related movies, TV shows, toys and other products. Added to regularly.
Show Appearances
---
---
---
Related Products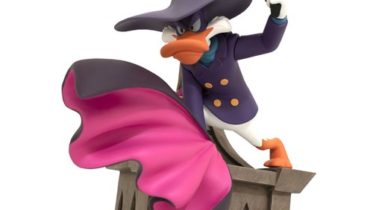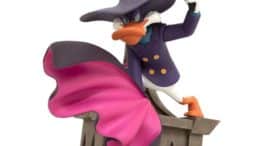 He is the terror that flaps in the night! The Darkwing Duck line of products kicks off with this dynamic Gallery statue of Darkwing himself!…
---
In the News
DuckTales, Chip 'n Dale Rescue Rangers, TaleSpin, and Darkwing Duck Coming to Disney+, September 12, 2019
---