Here is everything you need to know about the amazing Disney series Disney's DuckTales including casting, episodes, fun facts and more. I hope you find this listing informative and helpful!
Disney's DuckTales Description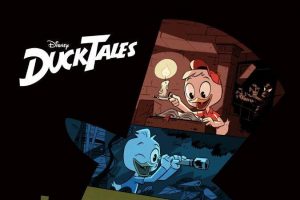 The Emmy® Award-nominated animated comedy-adventure series "DuckTales" chronicles the high-flying adventures of Duckburg's most famous trillionaire Scrooge McDuck, his mischief-making triplet grandnephews – Huey, Dewey and Louie, temperamental nephew Donald Duck and the trusted McDuck Manor team: big-hearted, fearless chauffer/pilot Launchpad McQuack; no-nonsense housekeeper Mrs. Beakley; and Mrs. Beakley's granddaughter, Webby Vanderquack, resident adventurer and the triplet's newfound fierce friend. After a long overdue family reunion reunites Scrooge with his nephew, grandnephews and epic past, the family of ducks dive into a life more exciting than they could have ever imagined.
Featuring a distinct animation style inspired by the classic Carl Barks' comic designs, "DuckTales" celebrates the importance of family and friendship, with comedy, mystery and adventure at every turn. Each 22-minute episode follows the ducks on thrilling explorations as they embrace courage, creativity and the rewards of stepping outside your comfort zone. With relatable and unique personality traits, the next generation of adventurers Huey, Dewey, Louie and Webby each embody characteristics of real kids and set examples for young viewers to be confident, curious, independent and innovative.
Created for kids, families and kids-at-heart – with several nostalgic nods to the original – the new series tails adventure-obsessed Scrooge McDuck, who has left behind a life of exploration, mystery solving and globetrotting for a businessman's life in the city of Duckburg. When Scrooge is unexpectedly reunited with his family, quick-thinking Huey, troublemaking Dewey and fast-talking Louie question everything about their once legendary great-uncle. Enthralled by Scrooge and the wonder of McDuck Manor, the triplets and Webby learn of long-kept family secrets and unleash totems from his epic past, sending the family – which includes Webby, Mrs. Beakley and Launchpad McQuack – on daring worldwide escapades. Together, the finely honed team wards off danger that lurks behind them.
Life is like a hurricane in Duckburg, a bustling metropolis on the cutting edge of everything, populated by a collection of diverse optimists, go-getters, competitive business titans and supernatural beings – many of whom are seeking their revenge on McDuck and his kin. Other beloved characters set to appear are: Scrooge's archenemy Flintheart Glomgold, superhero Gizmoduck (also known as the brilliant intern Fenton Crackshell-Cabrera), mad scientist Gyro Gearloose, lucky duck Gladstone Gander, the ruthless Ma Beagle and the mask-wearing Beagle Boys, scientist Ludwig Von Drake and Scrooge's old flame Goldie O'Gilt. The series will also introduce new characters including well-traveled teen Lena and tech billionaire Mark Beaks. (source)
---
Disney's DuckTales Cast:
David Tennant  as Scrooge McDuck
Danny Pudi  as Huey Duck
Ben Schwartz  as Dewey Duck
Bobby Moynihan as Louie Duck
Kate Micucci as Webbigail (Webby) Vanderquack
Beck Bennett as Launchpad McQuack
Toks Olagundoye  as Mrs. Betina Beakley
Tony Anselmo as Donald Duck
Paget Brewster as Della Duck
---
Disney's DuckTales Details:
Year of Debut: 2017
Year of Finale: 2021
Type of Series: Animated
TV Channel/Platform: Disney XD
Disney's DuckTales Trailer:
Buy Movie
---