Magica De Spell (DuckTales)
Last Updated on: October 13th, 2022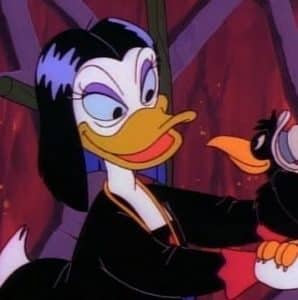 Who is Magica De Spell?
Magica De Spell is a character in the Disney animated television series "DuckTales." She is a sorceress who is the main antagonist in many of the show's episodes. Magica is a villainous character who is obsessed with obtaining Scrooge McDuck's Number One Dime, which she believes will give her immense magical power. She is known for her cunning, intelligence, and mischievous streak, and is a formidable opponent for Scrooge and his family. Throughout the series, Magica is depicted as a master of dark magic, who is always scheming to take advantage of any opportunity to get her hands on Scrooge's dime. Despite her evil ways, however, Magica is also portrayed as a sympathetic character, and her motivations for wanting the dime are eventually revealed to be rooted in a personal tragedy.
She was voiced by actress June Foray who is probably best known for voicing Rocky J Squirrel in The Adventures of Rocky and Bulwinkle.
The Collection:
Here is the Internet's largest collection of Magica De Spell -related movies, TV shows, toys and other products. As always, new pieces are added to this collection regularly.
---
---
---