Here is everything you need to know about the amazing Disney movie Ducktales The Movie: Treasure Of The Lost Lamp including casting, reviews, fun facts and more. I hope you find this listing informative and helpful!
Description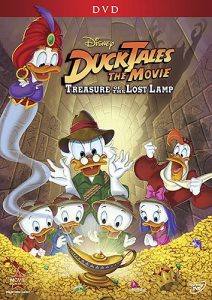 "DuckTales the Movie: Treasure of the Lost Lamp" is an animated adventure film based on the popular Disney animated television series "DuckTales." The movie was released in 1990 and was the first feature-length film based on a Disney TV series.
The film follows Scrooge McDuck, his three grandnephews Huey, Dewey, and Louie, and his loyal pilot Launchpad McQuack as they embark on a journey to find the legendary Lost Lamp of Collie Baba. With the help of a new friend, a young Genie named Dijon, they discover that the lamp has the power to grant wishes. However, they also encounter the villainous sorcerer Merlock, who wants to use the lamp for his evil purposes.
As the adventure unfolds, Scrooge and his nephews must outwit Merlock and his henchmen to keep the powerful lamp out of the wrong hands and ensure that it doesn't fall into the clutches of evil.
"DuckTales the Movie: Treasure of the Lost Lamp" captures the humor, action, and heart that made the TV series so popular among audiences. It expands on the adventures of the beloved characters and introduces new ones, such as Dijon and Merlock, adding depth to the storyline. The film is a delightful mix of comedy, fantasy, and action, making it entertaining for both children and adults.
The success of the "DuckTales" TV series and the popularity of the film led to the continued popularity of the franchise, with subsequent spin-off shows, video games, and merchandise being produced over the years.
"DuckTales the Movie: Treasure of the Lost Lamp" remains a nostalgic favorite for fans of the classic Disney cartoons and is remembered for bringing the beloved characters and their adventurous spirit to the big screen.
---
Crew:
Director: Bob Hathrock
Producers: Bob Hathrock and Jean-Pierre Quenet
Music: David Newman
---
Additional Details
---
Ducktales The Movie: Treasure Of The Lost Lamp Trailer:
---