Principal Mazur (A Goofy Movie)
Last Updated on: October 18th, 2023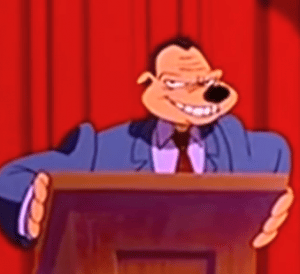 Who is Principal Mazur?
Principal Mazur is a character from the Disney animated film "A Goofy Movie." He is the principal of Max Goof's high school, and is depicted as a strict but fair administrator who is always on the lookout for ways to improve the school and its students. Throughout the film, Principal Mazur interacts with Goofy and Max, and is shown to be a somewhat cantankerous character who is not afraid to speak his mind. He was voiced by actor Wallace Shawn who also voiced Rex in the Toy Story movies.
The Collection:
Here is the Internet's largest collection of Principal Mazur -related movies, TV shows, toys and other products. As always, new pieces are added to this collection regularly.
Movie Appearances
---
---