Professor Norton Nimnul (Chip 'n Dale Rescue Rangers)
Last Updated on: March 28th, 2023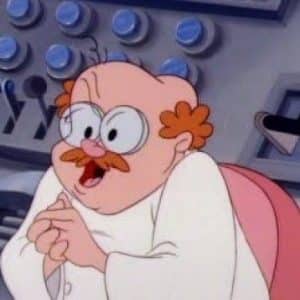 Who is Professor Norton Nimnul?
Professor Norton Nimnul is a character from the Disney animated television series "Chip 'n Dale Rescue Rangers." He is depicted as a brilliant but slightly mad scientist who is always coming up with new and often evil inventions to use for his own gain. Throughout the series, Professor Nimnul serves as one of the primary antagonists, and is frequently foiled in his plans by the titular chipmunks, Chip and Dale, and their team of Rescue Rangers. Despite his many setbacks, Professor Nimnul remains determined to achieve his goals, and is always coming up with new and increasingly elaborate schemes to defeat the Rescue Rangers. He was voiced by Jim Cummings, who voiced a number of characters in the show and is best known for being the voice of Winnie the Pooh
The Collection:
Here is the Internet's largest collection of Professor Norton Nimnul -related movies, TV shows, toys and other products. As always, new pieces are added to this collection regularly.
Movie Appearances
---
Show Appearances
---
---