Robert "Bobby" Zimmeruski (A Goofy Movie)
Last Updated on: May 26th, 2023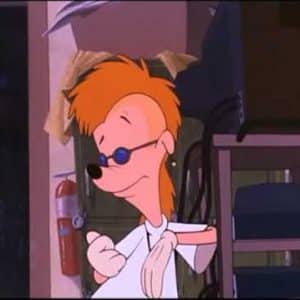 Who is Robert "Bobby" Zimmeruski?
Robert "Bobby" Zimmeruski is a character from the Disney animated film "A Goofy Movie." He is a high school student and the best friend of the film's protagonist, Max Goof. Bobby is depicted as being cool and popular, and he is often seen as a contrast to Max's awkwardness and lack of popularity. Throughout the film, Bobby and Max go on a road trip with Goofy, which leads to a series of misadventures and helps Max realize the importance of family and being true to himself. He was voiced by actor and former MTV VJ Pauly Shore.
The Collection:
Here is the Internet's largest collection of Robert "Bobby" Zimmeruski -related movies, TV shows, toys and other products. As always, new pieces are added to this collection regularly.
Movie Appearances
---
---