Sid Phillips (Toy Story)
Last Updated on: February 10th, 2023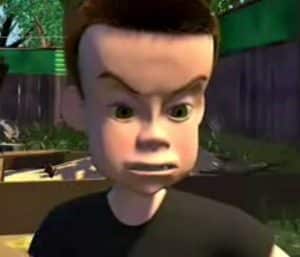 Who is Sid Phillips?
Sid Phillips is a fictional character from the 1995 Disney-Pixar animated film "Toy Story." He is the main antagonist of the first film, and is known for his sadistic behavior towards his toys, and his love of mutilating and destroying toys. He is the next-door neighbor of the film's protagonist, Andy, and is voiced by actor Erik von Detten. Sid is portrayed as a mischievous and cruel child who is fascinated with destroying and altering toys, but in the end, he learns a valuable lesson about the value of toys and the importance of treating them with care and respect.
The Collection:
Here is the Internet's largest collection of Sid Phillips -related movies, TV shows, toys and other products. As always, new pieces are added to this collection regularly.
Movie Appearances
---
---