Here is everything you need to know about the amazing Pixar movie Toy Story including casting, reviews, fun facts and more. I hope you find this listing informative and helpful!
Description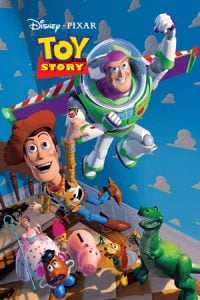 "Toy Story" is a 1995 computer-animated film produced by Pixar Animation Studios and released by Walt Disney Pictures. Directed by John Lasseter, it is the first feature-length film entirely created using computer-generated imagery (CGI).
"Toy Story" introduces us to a group of toys that come to life when humans are not around. The story centers around Woody, a cowboy doll who has long been the favorite toy of a boy named Andy. However, when a new space toy named Buzz Lightyear arrives, Woody's status as the top toy is challenged. As Woody and Buzz embark on a series of adventures and misadventures, they learn the true meaning of friendship and loyalty.
The film was groundbreaking for its use of CGI animation and introduced audiences to beloved characters like Woody, Buzz Lightyear, Mr. Potato Head, and more. It skillfully combines humor, emotion, and action to create an engaging and heartwarming story.
"Toy Story" was a critical and commercial success, becoming the highest-grossing film of 1995. It spawned multiple sequels, a franchise that has continued to captivate audiences of all ages. The film's success is attributed to its relatable characters, witty dialogue, and the magical world it creates, where toys have their own secret lives and adventures.
"Toy Story" is celebrated as a groundbreaking film that revolutionized animation and storytelling. It remains a beloved classic that has captured the hearts of generations, with its themes of friendship, imagination, and the importance of cherishing our childhood toys.
---
Toy Story Fun Facts
Toy Story was the first completely computer-generated full-length feature.
Buzz Lightyear was named after the US astronaut Buzz Aldrin
The Pizza Planet delivery truck from Toy Story has appeared in every Pixar movie except The Incredibles.
Billy Crystal was originally supposed to be the voice of Buzz Lightyear, but he turned the role down.
The original name of Toy Story was 'You are a Toy.'
Buzz Lightyear's name was originally 'Lunar Larry.'
The Little Bo Peep character was originally supposed to be a Barbie until Mattel backed out.
Woody was originally supposed to be a sarcastic jerk and was  re-cast after Disney had an early screening.
Wood was originally supposed to be a ventriloquist dummy.
The dinosaur character Rex was created by Joss Whedon.
---
Crew:
Director: John Lasseter
Producers: Bonnie Arnold and Ralph Guggenheim
Music: Randy Newman
---
Additional Details
---
Toy Story Trailer:
---