Here is everything you need to know about Walt Disney World's Magic Kingdom's Buzz Lightyear's Space Ranger Spin ride including history, fun facts, photos and more. I hope you find this listing informative and helpful!
Description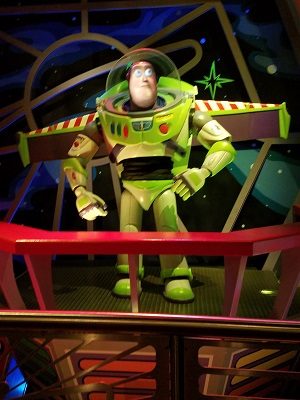 Buzz Lightyear's Space Ranger Spin is an interactive dark ride located at the Magic Kingdom theme park in Walt Disney World Resort, Florida. The attraction is based on the popular Disney-Pixar movie franchise "Toy Story" and features Buzz Lightyear as the main character.
The storyline of the ride revolves around an intergalactic space mission where guests are recruited as "Space Rangers" to help Buzz Lightyear battle against the evil Emperor Zurg. Each guest is provided with a "Space Cruiser," a two-person ride vehicle equipped with a "Space Ranger Blaster."
As the ride progresses, guests travel through different scenes and encounter various targets representing Zurg's minions. The objective is to shoot at these targets using the blaster to earn points and achieve the highest score possible. Riders can spin their vehicles around to aim at different targets and rack up points during the mission.
Throughout the attraction, the ride's interactive and playful nature allows guests of all ages to immerse themselves in the Toy Story universe and feel like real Space Rangers. The ride is full of colorful scenes, special effects, and playful audio-animatronics that bring the world of Buzz Lightyear to life.
Buzz Lightyear's Space Ranger Spin is a popular attraction for families and individuals alike, combining the thrill of a shooting game with the magic of Disney storytelling. It offers a fun and engaging experience that invites guests to become part of the "Toy Story" adventure while enjoying the classic charm of Tomorrowland at the Magic Kingdom.
---
Fun Facts
Estimated ride duration: 5 minutes
Space Ranger Spin was once sponsored by toymaker Mattel.
The ride has seen virtually no changes since opening in 1998.
During the ride, it is possible to see the PeopleMover ride by.
---
Important Details