Here is everything you need to know about Walt Disney World's Magic Kingdom's Buzz Lightyear's Space Ranger Spin ride including history, fun facts, photos and more. I hope you find this listing informative and helpful!
Buzz Lightyear's Space Ranger Spin | Disney World Description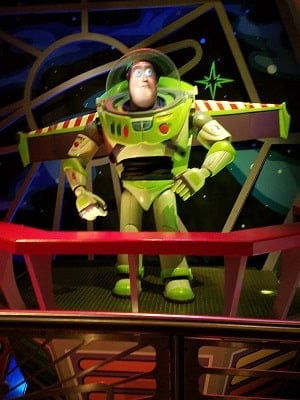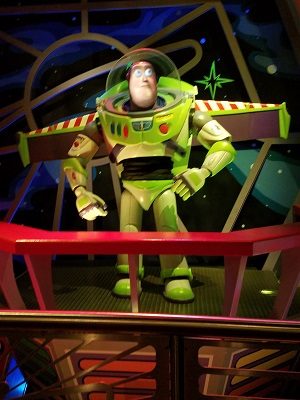 Fire lasers to defeat Zurg in this shooting-gallery game that puts you in the center of a thrilling space battle.
Take aim with your space cannon and fire an invisible infrared laser at a constellation of "Z" insignias. Following an introductory mission briefing with Buzz Lightyear, board an XP-37 star cruiser, take hold of the onboard cannon and begin your space crusade into the Gamma Quadrant.
Amid illuminated otherworldly realms, accompany Buzz Lightyear into battle and come face-to-face with Zurg and his rampaging squadron of revolting robots. Quickly identify your interplanetary "Z" targets by using an onboard joystick to spin your cruiser a full 360 degrees, and blast the targets to collect points by firing lasers from your cannon.
Do you have what it takes to stop Zurg and his army before it's too late? The fate of the universe is in your hands.
Score Points
With each "Z" insignia you hit, you're rewarded with beeping sounds, flashing lights and points. The more targets you blast, the more points you'll receive. As expected, harder-to-hit targets are worth more points.
During the space battle, points are automatically tallied and can easily be seen on the electronic dashboard in your space cruiser. Compete with friends for the highest score or try to achieve a new personal best!
Star Command Rank
At the end of your mission, you'll receive a Star Command ranking, based on the points you accumulated during the mission. The lowest rank is the humble "Space Cadet," but advanced players can challenge themselves to reach the highest classification, "Galactic Hero."
---
Buzz Lightyear's Space Ranger Spin | Disney World Fun Facts
Estimated ride duration: 5 minutes
Space Ranger Spin was once sponsored by toymaker Mattel.
The ride has seen virtually no changes since opening in 1998.
During the ride, it is possible to see the PeopleMover ride by.
---
Buzz Lightyear's Space Ranger Spin | Disney World Details