Here is everything you need to know about the amazing Pixar movie Toy Story 2 including casting, reviews, fun facts and more. I hope you find this listing informative and helpful!
Description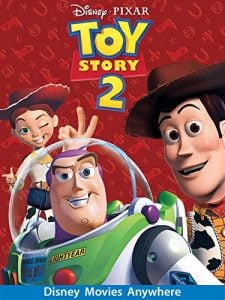 "Toy Story 2" is an animated comedy film produced by Pixar Animation Studios and released by Walt Disney Pictures in 1999. It is the sequel to the highly successful "Toy Story," which was released in 1995. The film is directed by John Lasseter, co-directed by Lee Unkrich and Ash Brannon, and features the voices of Tom Hanks, Tim Allen, Joan Cusack, and Kelsey Grammer, among others.
The story picks up where the first film left off, focusing on Woody (voiced by Tom Hanks) and his fellow toys as they navigate life with their new owner, Andy. However, when Woody is accidentally sold at a yard sale, he finds himself in a collectibles store, where he discovers that he is part of a valuable toy collection based on a popular 1950s TV show, "Woody's Roundup."
Meanwhile, Buzz Lightyear (voiced by Tim Allen) and the other toys embark on a rescue mission to save Woody and bring him back home. Along the way, Woody befriends the other members of the "Woody's Roundup" collection, including Jessie the cowgirl (voiced by Joan Cusack), Bullseye the horse, and Stinky Pete the prospector (voiced by Kelsey Grammer).
As the toys face various challenges, including the threat of being sold to a toy museum in Japan, they come to realize the true meaning of friendship and the importance of being there for one another. The film explores themes of identity, loyalty, and the value of cherished memories.
"Toy Story 2" was highly praised by critics and audiences alike for its clever storytelling, emotional depth, and groundbreaking animation. It was a commercial success, becoming one of the highest-grossing films of 1999. The film also received several award nominations, including an Academy Award nomination for Best Original Song for "When She Loved Me" by Randy Newman.
"Toy Story 2" is regarded as one of the greatest animated sequels of all time and has become a beloved classic in the animation genre. Its success further solidified Pixar's reputation as a leading animation studio, and it paved the way for more successful sequels and franchises in the years to come.
---
Toy Story 2 Fun Facts
Toy Story 2 was originally planned to be a straight-to-video release.
---
Crew:
Director: John Lasseter
Producers: Helen Plotkin and Karen Robert Jackson
Music: Randy Newman
---
Additional Details
---
Toy Story 2 Trailer:
---