Here is everything you need to know about Walt Disney World's Hollywood Studios' Toy Story Midway Mania ride including history, fun facts, photos and more. I hope you find this listing informative and helpful!
Toy Story Midway Mania Description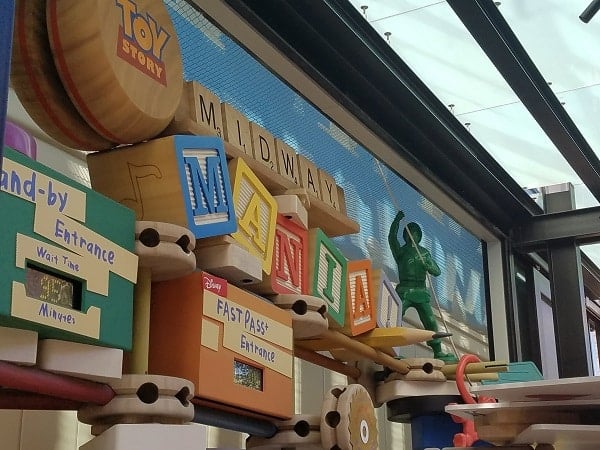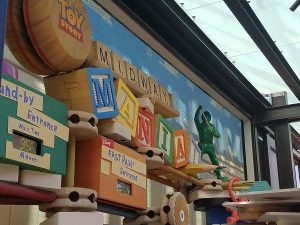 Ride and blast moving targets at this midway-style, 4D shootin' game starring your favorite Toy Story characters.
Zip through a virtual gallery of exciting carnival games based on the hit animated film series.
Step inside Andy's room and wind your way through a toy treasure chest of classic playthings. Pass a Candyland® game box, Viewmaster® discs, crayon drawings and a Scrabble board before picking up a pair of special 3D glasses for the fun to come.
Playtime!
Climb aboard an early 20th-century-inspired Carnival Ride Tram and grab your spring-action shooter. With 3D glasses on, glide into the Toy Story Midway Games Play Set and take aim at stationary and moving 3D objects in a variety of fast-paced games.
Thrilling Games of Skill
Toy Story Mania! invites you to play 5 unique, virtual carnival games in 3D alongside the loveable cast of characters from the Disney•Pixar Toy Story films.
Game 1: Hamm & Eggs
Hamm and Buttercup invite you to knock down both moving and stationary barnyard animal targets using hardboiled eggs.
Game 2: Rex & Trixie's Dino Darts
Launch darts and pop balloons in front of a bubbling volcano in this game starring Rex and Trixie.
Game 3: Green Army Men Shoot Camp
Toss baseballs to break plates at a green army men firing range.
Game 4: Buzz Lightyear's Flying Tossers
Buzz Lightyear urges you to toss rings and make them land atop the Little Green Men.
Game 5: Woody's Rootin' Tootin' Shootin' Gallery
Shoot suction-cup-tipped darts at a variety of mine-cart targets in this game inspired by the "Woody's Roundup" television show.
As each game is completed, your Carnival Ride Tram will quickly rotate and slide onto the next game.
Compete with friends for the highest score or try to achieve a new personal best! But remember, whether you're an expert or a beginner, everyone's a winner!
Surprises Galore!
Select targets throughout the attraction feature special 4D special effects, like air blasts or water sprays. Don't be surprised if that 3D balloon you're aiming for splashes you when you hit it.
Scoring Points
Points pile up when you hit your mark. As any good cowboy or cowgirl knows, harder-to-hit targets are worth more. After each game, your score is posted showing how well you did; after all games are played, your total score is tallied and displayed.
---
Toy Story Midway Mania Fun Facts
A third track was added to the ride in 2016 to alleviate some of the insane crowds and wait times it attracted.
Toy Story Midway Mania reportedly cost $80 million to produce.
The ride requires 150 Windows PCs working together.
---
Toy Story Midway Mania Details
---