Here is everything you need to know about Walt Disney World's Hollywood Studios' Toy Story Midway Mania ride including history, fun facts, photos and more. I hope you find this listing informative and helpful!
Description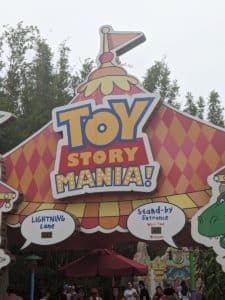 Toy Story Midway Mania is an incredibly popular and immersive attraction located at Disney's Hollywood Studios in Walt Disney World. It is a 4D interactive shooting game that transports guests into the whimsical world of Toy Story, where they can join their favorite characters for an exciting and competitive carnival experience.
As you enter the attraction, you are immediately greeted by a vibrant and colorful midway setting that resembles a classic toy carnival. The attention to detail is exceptional, with oversized game board pieces, gigantic toys, and lively music playing in the background. The atmosphere is filled with anticipation and excitement, as guests eagerly await their turn to embark on this interactive adventure.
Once inside, you board a ride vehicle that resembles a carnival-themed, two-seater car. Equipped with 3D glasses and a spring-action shooter, you are ready to participate in the carnival games alongside Woody, Buzz Lightyear, and their toy pals. The ride vehicle moves from one game booth to another, with each booth offering a different interactive experience.
Throughout the attraction, you engage in a series of virtual midway games that are brought to life with stunning 3D graphics. From tossing rings onto aliens to breaking plates with baseballs, each game presents a unique challenge and opportunity to rack up points. The ride vehicle itself rotates and moves to ensure that every guest has a fair chance to hit targets and earn the highest score possible.
Game 1: Hamm & Eggs
Hamm and Buttercup invite you to knock down both moving and stationary barnyard animal targets using hardboiled eggs.
Game 2: Rex & Trixie's Dino Darts
Launch darts and pop balloons in front of a bubbling volcano in this game starring Rex and Trixie.
Game 3: Green Army Men Shoot Camp
Toss baseballs to break plates at a green army men firing range.
Game 4: Buzz Lightyear's Flying Tossers
Buzz Lightyear urges you to toss rings and make them land atop the Little Green Men.
Game 5: Woody's Rootin' Tootin' Shootin' Gallery
Shoot suction-cup-tipped darts at a variety of mine-cart targets in this game inspired by the "Woody's Roundup" television show.
What makes Toy Story Midway Mania truly special is the interactive nature of the experience. The spring-action shooter allows guests to physically aim and fire at the targets, adding a level of engagement that immerses you fully into the game. The 3D visuals are incredibly sharp and vibrant, making it feel like the characters are right there in front of you. Additionally, the attraction incorporates whimsical and humorous moments that will make you laugh and create lasting memories.
The competitive aspect of Toy Story Midway Mania adds an extra layer of excitement. Guests can challenge their family and friends to see who can achieve the highest score. Large screens display the scores of each participant, adding a thrilling element of competition as you try to outscore your fellow riders.
Toy Story Midway Mania is a must-visit attraction for both children and adults alike. It captures the magic and joy of the Toy Story franchise, allowing guests to step into the shoes of their favorite characters and embark on a thrilling carnival adventure. The combination of interactive gameplay, stunning visuals, and friendly competition make it an unforgettable experience that will leave you wanting to ride again and again.
---
Fun Facts
A third track was added to the ride in 2016 to alleviate some of the insane crowds and wait times it attracted.
Toy Story Midway Mania reportedly cost $80 million to produce.
The ride requires 150 Windows PCs working together.
---
Important Details