Sylvia Marpole (An Extremely Goofy Movie)
Last Updated on: February 20th, 2023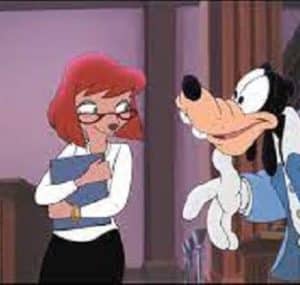 Who is Sylvia Marpole?
Sylvia Marpole is a character from the Disney animated film "An Extremely Goofy Movie." She is the Dean of Students at the college that the main characters in the film attend. Sylvia is depicted as a strict and no-nonsense administrator who is in charge of enforcing the college's rules and regulations. Throughout the film, she is shown to be very dedicated to her job, but also has a humorous side, which is shown when she is pulled into various wacky situations by the mischievous and adventurous Goofy and his son Max. She was voiced by actress Bebe Neuwirth, who is best known for her role as Dr Lilith Stern on the NBC sitcoms Cheers and Frasier..
The Collection:
Here is the Internet's largest collection of Sylvia Marpole -related movies, TV shows, toys and other products. As always, new pieces are added to this collection regularly.
Movie Appearances
---
---