Will Turner (Pirates of the Caribbean)
Last Updated on: February 20th, 2023
Who is Will Turner?
Will Turner is a character in the "Pirates of the Caribbean" franchise. He is a blacksmith who becomes embroiled in a series of adventures involving pirates and other characters from the high seas. Will is depicted as a brave and determined individual who is motivated by his love for his father and his desire to protect his friends and loved ones. He is portrayed as a skilled swordsman and a resourceful individual who is not afraid to take on even the most dangerous foes. Throughout the films, Will becomes a central figure in the struggle against the pirate Captain Jack Sparrow and his nemesis, the legendary pirate Davy Jones. He is a key player in the events that unfold in the franchise and plays a critical role in the outcome of each film. He was played by Orlando Bloom.
The Collection:
Here is the Internet's largest collection of Will Turner related movies, TV
shows, toys and other products. As always, new pieces are added to this
collection regularly.
Movie Appearances
---
---
---
---
Related Products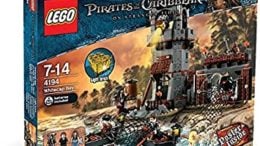 At White Cap Bay, Captain Jack Sparrow and the other pirates must capture a mermaid. Spot them using the searchlight and shoot the net from…
---
---