Here is everything you need to know about the amazing Disney movie Pirates of the Caribbean: Dead Men Tell No Tales including casting, reviews, fun facts and more. I hope you find this listing informative and helpful!
Pirates of the Caribbean: Dead Men Tell No Tales Description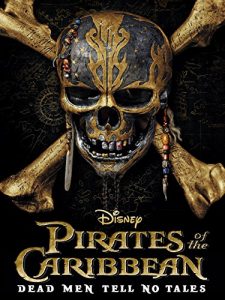 "Pirates of the Caribbean: Dead Men Tell No Tales" is a 2017 fantasy adventure film and the fifth installment in the "Pirates of the Caribbean" film series. Produced by Walt Disney Pictures and Jerry Bruckheimer Films, the movie was directed by Joachim Rønning and Espen Sandberg. The film stars Johnny Depp reprising his role as Captain Jack Sparrow, alongside Javier Bardem as Captain Armando Salazar, Brenton Thwaites as Henry Turner, and Kaya Scodelario as Carina Smyth.
In this installment, Captain Jack Sparrow finds himself pursued by the vengeful ghostly pirate Captain Armando Salazar and his crew of undead sailors. Salazar was trapped in the Devil's Triangle by a young Jack Sparrow and seeks revenge on him and all pirates. To escape Salazar's wrath and save his life, Jack must find the Trident of Poseidon, a powerful artifact that grants its possessor total control over the seas.
Jack is joined by Henry Turner, the son of Will Turner and Elizabeth Swann, and Carina Smyth, an astronomer accused of witchcraft. Together, they embark on an action-packed adventure filled with peril, supernatural encounters, and unexpected alliances. Along the way, they face dangerous sea creatures, ghostly confrontations, and the challenges of finding the elusive Trident.
The film brings back the swashbuckling action and witty humor that made the "Pirates of the Caribbean" franchise popular with audiences worldwide. It also delves deeper into the backstory of certain characters, particularly the origin of Captain Jack Sparrow and the legacy of the Turner family.
"Pirates of the Caribbean: Dead Men Tell No Tales" received mixed reviews from critics but was a commercial success, grossing over $794 million worldwide. The film brought back the excitement and allure of the previous "Pirates of the Caribbean" films, offering a fresh adventure with new characters while paying homage to the beloved elements that fans have come to enjoy.
The movie features impressive visual effects, thrilling action sequences, and a memorable musical score by Geoff Zanelli. It is a thrilling addition to the "Pirates of the Caribbean" saga, providing audiences with another exciting journey into the high seas, filled with pirate lore, supernatural legends, and daring escapades.
---
Pirates of the Caribbean: Dead Men Tell No Tales Cast:
---
Pirates of the Caribbean: Dead Men Tell No Tales Crew:
Directors: Joachim Rønning and Espen Sandberg
Producer: Jerry Bruckheimer
---
Pirates of the Caribbean: Dead Men Tell No Tales Details
Pirates of the Caribbean: Dead Men Tell No Tales Trailer:
---