Here is everything you need to know about the amazing Pirates of the Caribbean attraction at Disneyland including history, reviews, fun facts, photos and more. I hope you find this listing informative and helpful!
Description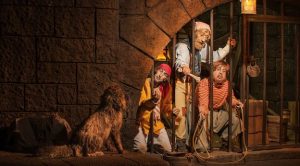 In Disneyland's Pirates of the Caribbean, gallivant inside a grand southern manor and board a small barge within a stone-wall fortress for a spellbinding adventure. Through a shadowy grotto, escape past the Blue Bayou restaurant before sliding down a small waterfall into the ghostly graveyard of fallen rapscallions—your gateway to the Golden Age of Piracy.
Behold boisterous buccaneers drunk on the spoils of plunderin' during your approximate 15-minute cruise amid the New World. Sing along as windswept pirates serenade you with their classic anthem, "Yo Ho, Yo Ho (A Pirate's Life for Me)." And even spy a sly Captain Jack Sparrow from the Pirates of the Caribbean film series along the way, as he secretly attempts to get his hands on the town's treasures.
If Ye Be Seekin' Adventure… On your treacherous voyage through the 17th century, you'll come face-to-face with the rowdy rogues who ruled many a seaport town under the watchful eye of "Jolly Roger." Be on the look-out for:
• Pirates Grotto 
Home to Dead Man's Cove and Hurricane Lagoon, this haunted realm recalls the struggles pirates endured on the open seas.
• The Fort
Navigate through a shadowy bay, where a foggy Caribbean fort and a striking 12-gun galleon—helmed by Captain Barbossa—are locked in battle.
• Town Square
Sail straight past a crowded marketplace of rambunctious scalawags, gleefully bidding in an auction.
• Burning City
Looters and buccaneers sing a song of jubilation as flames engulf a seaside town.
• The Dungeon
Trapped in a jail cell, freebooters attempt to lure a clever canine within reach to nab the prison keys he has in his mouth.
---
Important Details
Experience:
---
---