Disneyland New Orleans Square
Last Updated on: November 25th, 2023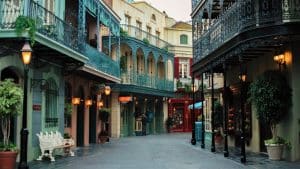 New Orleans Square is a themed area located within Disneyland Park, one of two theme parks at the Disneyland Resort in Anaheim, California. The area is designed to resemble the historic French Quarter of New Orleans, Louisiana, and features a variety of attractions and experiences that take guests back in time to the 19th century.
New Orleans Square is home to several classic Disneyland attractions such as the Haunted Mansion, a spooky ghost-themed ride that takes guests on a tour of a haunted mansion, and Pirates of the Caribbean, a boat ride that simulates a journey through a Caribbean pirate town.
The area also features several dining options such as the Cafe Orleans, a table-service restaurant that serves Cajun and Creole-inspired dishes and the French Market, a quick-service restaurant that serves classic New Orleans fare. It also features several souvenir shops such as the Mlle.
Antoinette's Parfumerie and the Portrait Artists, that sell unique merchandise and souvenirs that are themed around the New Orleans Square. Additionally, New Orleans Square also features a number of live entertainment options such as the Royal Street Bachelors, a jazz band that performs on the streets.
Your complete guide to each of the rides, attractions, restaurants and shows, past and present in Disneyland Park's New Orleans Square.
Below is a rundown of everything you can find in this land. click on a listing to find out a ton more details about it.
---
---
---
---
---
---
---
---
---
---
---
---