At Disney News, we are constantly in search of new and interesting Disney-related products to share with you in the DINUS Mall.
This Disney Brave Merida's Highland Games LEGO Set is something we thought our readers might be interested in. If you'd like more information about this item, please click on the "Shop Now" link below.
Be sure to check back often as we are adding new products to the Mall daily!
---
Disney Brave Merida's Highland Games LEGO Set Details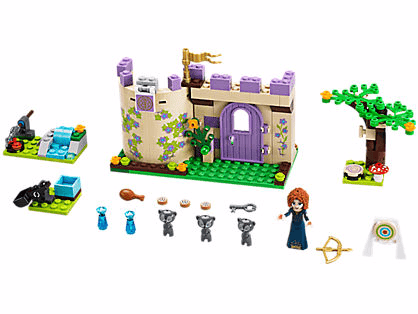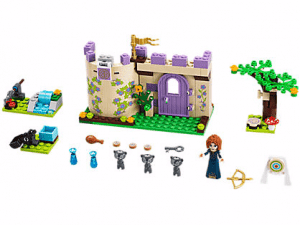 Merida from the hit Pixar film Brave is practicing her archery skills for the Highland Games! But her 3 little brothers have been turned into naughty little bears and it's up to her to keep them out of trouble. Join Merida as her brothers shoot cookies from the catapult. Hang up her bow on the beautiful tree or help her catch a fish in the stream. Cook the fish over the fire and, when the food is ready, have dinner at the castle's dining table… but first Merida must find the hidden key to unlock the door! Includes Merida mini-doll figure and 3 bear cub brothers.
Includes Merida mini-doll figure and her triplet bear brothers
Features Merida's castle with an opening door and key, key hook, flowers, dining table, cookie-shooting catapult, tree, mushroom, stream and a camp fire with a fish roasting
Accessories include a bow and target, fish, chicken leg and 3 cookies
Help Merida discover the secret key to the castle
Catch the fish and cook it on the camp fire
Toss cookies into the air with the catapult
Merida's castle measures over 3" (8cm) high, 5" (14cm) wide and 1" (4cm) deep
Tree measures over 2" (7cm) high, 3" (8cm) wide and 1" (5cm) deep
SHOP NOW