At Disney News, we are constantly in search of new and interesting Disney-related products to share with you in the DINUS Mall.
This Disney Tangled Rapunzel's Creativity Tower LEGO Set is something we thought our readers might be interested in. If you'd like more information about this item, please click on the "Shop Now" link below.
Be sure to check back often as we are adding new products to the Mall daily!
---
Disney Tangled Rapunzel's Creativity Tower LEGO Set Details
Rapunzel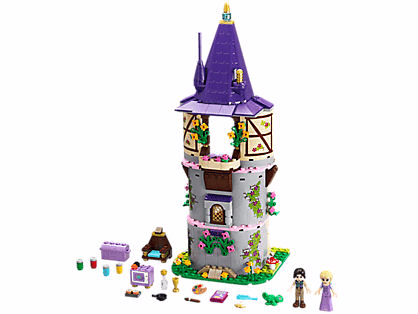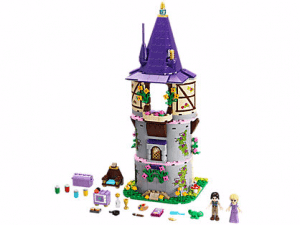 has been locked in the tower with only Pascal the chameleon for company. That's why this princess, with her famous long hair, has become extra creative. Help them as they spend their days painting on the walls and baking cookies in the kitchen. Brush her lovely hair and decorate it with the pretty bows. When Flynn Rider breaks in with the stolen tiara, Rapunzel has to bash him with the frying pan and tie him to the chair. Join the pair on their adventures with each other! Includes 2 mini-doll figures: Rapunzel and Flynn Rider, plus Pascal the chameleon.
Tangled Rapunzel's Creativity Tower LEGO Set:
Includes 2 mini-doll figures: Rapunzel and Flynn Rider, plus Pascal the chameleon
Features hidden stairs, attic, large window, fireplace, mirror, chair and a flower decoration
Also includes a small separate kitchen
Accessories include Rapunzel's hair brush and bows, book, chocolate chip cookies, paint brush and palette, chest with extra paint, frying pan, tiara and a bottle
Play hide and seek with Rapunzel and Pascal the chameleon
Bake chocolate chip cookies with Rapunzel
Pretend to comb her long hair with the brush and decorate it with bows in front of the mirror
Paint beautiful images on the walls with the brush and palette
Reveal the hidden stairs for Flynn Rider to access the tower
Pretend to help Rapunzel tie Flynn Rider up in the chair and go after him with the frying pan!
Rapunzel's Creativity Tower measures over 12" (32cm) high, 4" (12cm) wide and 4" (11cm) deep
SHOP NOW