At Disney News, we are constantly in search of new and interesting Disney-related products to share with you in the DINUS Mall.
This Disney The Little Mermaid Ariel's Undersea Palace LEGO Set is something we thought our readers might be interested in. If you'd like more information about this item, please click on the "Shop Now" link below.
Be sure to check back often as we are adding new products to the Mall daily!
---
Disney The Little Mermaid Ariel's Undersea Palace LEGO Set Details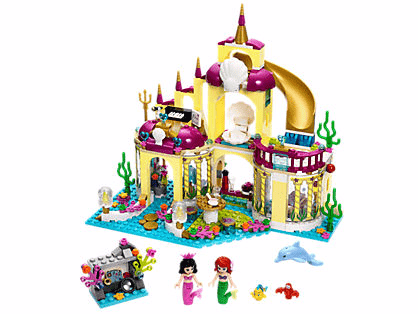 Dive right into an incredible underwater adventure with Ariel, her sister Alana and her friends Sebastian and Flounder! Help Ariel and Alana get ready for a concert in their dressing room with vanity and sofa. Then put on a show-stopping performance with the gang on the piano, maracas and microphone. Admire Ariel's collection of bits and pieces from the human world in her secret grotto, and frolic in the waves with Flounder and a friendly dolphin. Help Ariel enjoy some sweet treats with her friends and when the day is done, slide her through a trap door, down a slide and straight into her clamshell bed. It's all up to you! First have fun building Ariel's Undersea Palace. Then it's time to play! Includes Ariel and Alana mini-doll figures, plus Sebastian the crab, Flounder the fish and a dolphin.
The Little Mermaid Ariel's Undersea Palace LEGO Set Features:
Includes Ariel and Alana mini-doll figures, plus Sebastian the crab, Flounder the fish and a dolphin
Features a palace with secret grotto, dressing room, trapdoor and slide, clam shell that opens and closes and a golden clam shell bed
Accessories include a microphone, piano, trident, map, magnifying glass, lipstick, hairbrush, cake, lollipop, glasses, coral, sea grass, shells and decorative stickers
Help Ariel, Alana and Sebastian put on a show-stopping performance!
Make the princesses look pretty in the dressing room
Open the trapdoor and whizz down the slide
Create magical underwater adventures with the two mermaid sisters and their fishy friends
Ariel's Undersea Palace measures over 9" (23cm) high, 9" (25cm) wide and 4" (12cm) deep
Secret grotto measures over 2" (5cm) high, 1" (4cm) wide and 1" (3cm) deep
SHOP NOW