At Disney News, we are constantly in search of new and interesting Disney-related products to share with you in the DINUS Mall.
This LEGO Zyclops Chase is something we thought our readers might be interested in. If you'd like more information about this item, please click on the "Shop Now" link below.
Be sure to check back often as we are adding new products to the Mall daily!
---
LEGO Zyclops Chase Details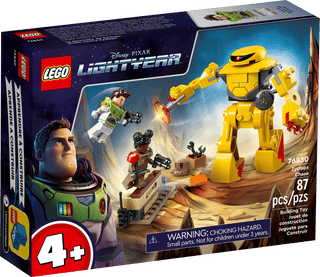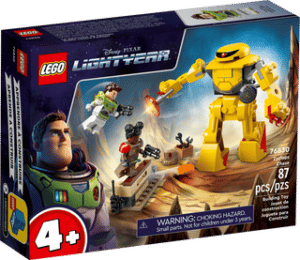 Know a Space-Ranger-in-training who loves Buzz Lightyear? Make their day with the Zyclops Chase (76830) building toy. Fans can recreate scenes from the Disney and Pixar movie Lightyear – the definitive origin story of Buzz Lightyear – as they learn to build with LEGO® bricks. Buzz Lightyear's minifigure wears a space suit and helmet, and the mech's cool features include posable arms and legs and a disc shooter for dynamic battle fun.
Simple builds for little Space-Rangers-in-training 
LEGO 4+ sets come with clever features for a fun play experience. The Starter Brick provides a sturdy base for building, and there's a figure in each bag of bricks so the role play can start before the set is completely built.
Top fun for families 
4+ gifts let adults share the building fun with kids. Grown-ups new to LEGO building needn't worry – this collectible Buzz Lightyear buildable toy playset comes with picture instructions, making the process easy even for children who are only just starting to read.
Relive scenes from the definitive origin story of Buzz Lightyear – Treat boys and girls aged 4 and up to the Lightyear Zyclops Chase (76830) playset inspired by Disney and Pixar's Lightyear
Buildable action toy for Buzz Lightyear fans – Creative set comes with LEGO® Buzz Lightyear and Izzy minifigures kitted out in spacesuit helmets and armor, a posable, buildable mech toy and 3 weapons
Save-the-day play – Buzz Lightyear fans enter a world of imaginative action and adventure as they move the buildable mech toy, launch his disc shooters and mobilize the heroes to win the battle
Gift for Buzz Lightyear fans aged 4 and up – LEGO® 4+ sets are quick to assemble and teach youngsters how to build, thanks to the inclusion of a Starter Brick and clear picture instructions
SHOP NOW