At Disney News, we are constantly in search of new and interesting Disney-related products to share with you in the DINUS Mall.
This Life-Sized Powered Disney Princess Carriage is something we thought our readers might be interested in. If you'd like more information about this item, please click on the "Shop Now" link below.
Be sure to check back often as we are adding new products to the Mall daily!
---
Life-Sized Powered Disney Princess Carriage Details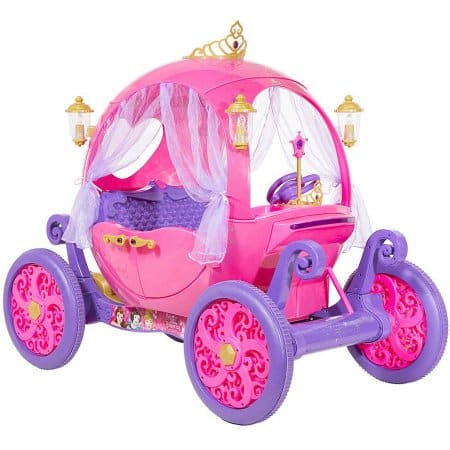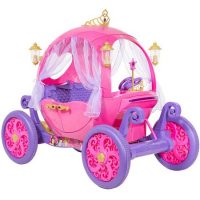 A celebrated fairy tale comes to life with the 24-volt Disney Princess carriage! Once a pumpkin, this elegant coach is ready to whisk your little princess off to the ball or to her next big adventure. The beautiful pink carriage is thoughtfully designed with graphics of her favorite Disney Princesses, gold accents, working doors and ornate interior details. The spacious coach is large enough to bring along a friend, and features a detachable "wear and share" tiara, heart-shaped steering wheel and luxurious curtains.
Girls will love the magical light-up wand and enchanting fairy tale sounds. With the iconic Disney Princess carriage by Dynacraft, your little princess can ride wherever her biggest dreams take her!
A celebrated fairy tale comes to life with the 24-Volt Disney Princess Carriage
Once a pumpkin, this elegant coach is ready to whisk your little princess off to the ball or to her next big adventure
The beautiful pink carriage is thoughtfully designed with graphics of her favorite Disney Princesses, gold accents, working doors and ornate interior details
The spacious coach is large enough to bring along a friend and features a detachable "wear and share" tiara, heart-shaped steering wheel and luxurious curtains
Girls will love the magical light-up wand and enchanting fairy tale sounds
With the iconic Disney Princess Carriage by Dynacraft, your little princess can ride wherever her biggest dreams take her
Charge Time: 18 hours before first use, then at least 12 hours after initial charge not exceeding 30 hours
Run time: 45 minutes
Number of speeds: 2, forward/reverse
Top speed: 5 MPH
SHOP NOW