At Disney News, we are constantly in search of new and interesting Disney-related products to share with you in the DINUS Mall.
This Disney Sleeping Beauty's Royal Bedroom LEGO Set is something we thought our readers might be interested in. If you'd like more information about this item, please click on the "Shop Now" link below.
Be sure to check back often as we are adding new products to the Mall daily!
---
Disney Sleeping Beauty's Royal Bedroom LEGO Set Details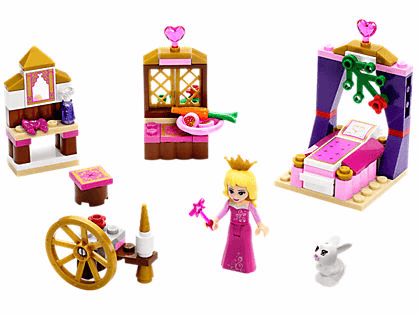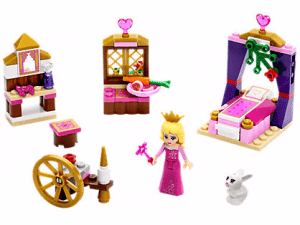 Explore Princess Aurora's bedroom at the castle and feed her furry friend the rabbit with a carrot. Today is her birthday. Sixteen years ago, an evil fairy named Maleficent put a terrible curse on her. Will Aurora prick her finger on a spinning wheel's spindle and fall into a deep, enchanted slumber, only to be woken by true love's kiss? Or maybe she will find a hidden magic wand and break the spell. It's all up to you! Have fun building Sleeping Beauty's bedroom and play as you go! Includes Princess Aurora mini-doll figure and a rabbit.
Includes Princess Aurora mini-doll figure and a rabbit
Features a bedroom with window, mirrored vanity, bed with secret compartment and a spinning wheel
Accessories include a perfume bottle, magic wand, tiara, hair bow, 2 strawberries and a carrot
Help Aurora do her hair and put on perfume at her mirrored vanity
Feed a tasty carrot to Aurora's rabbit friend
Hide the good fairy's magic wand in the hidden compartment under Aurora's bed
Use the spinning wheel–but be very careful…
Relax on the comfy princess bed for enchanted slumbering!
Follow the movie story or create your own adventures inspired by this popular Disney Princess™
Bed measures over 2" (7cm) high, 1" (4cm) wide and 1" (5cm) deep
Window measures over 2" (6cm) high, 1" (3cm) wide and 1" (5cm) deep
SHOP NOW