At Disney News, we are constantly in search of new and interesting Disney-related products to share with you in the DINUS Mall.
This Scrooge McDuck, Huey, Dewey & Louie LEGO BrickHeadz is something we thought our readers might be interested in. If you'd like more information about this item, please click on the "Shop Now" link below.
Be sure to check back often as we are adding new products to the Mall daily!
---
Scrooge McDuck, Huey, Dewey & Louie LEGO BrickHeadz Details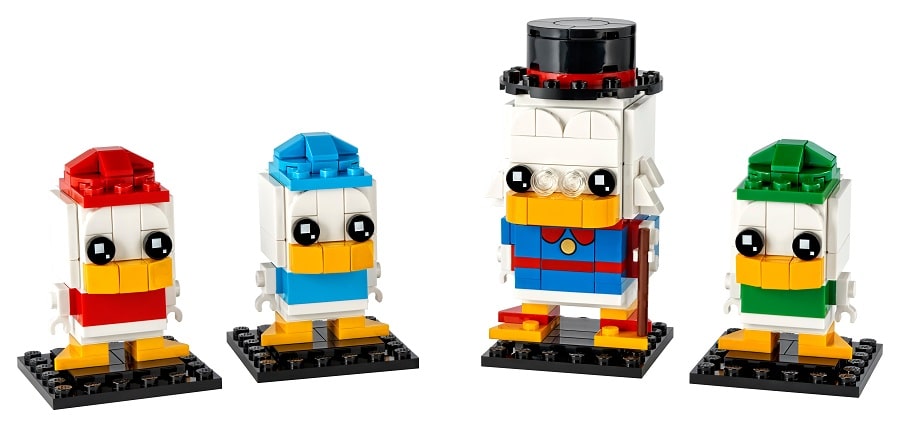 Appeal to Disney fans with this LEGO® BrickHeadz™ ǀ Disney Scrooge McDuck, Huey, Dewey & Louie (40477) build-and-display set. The detailed figures sit on black BrickHeadz stands and look ready to count money or make some mischief. The figures feature fun details like Scrooge's iconic top hat and a printed torso tile, and Huey, Dewey and Louie's color-matched baseball caps and T-shirts. This buildable figure set is a great gift for Disney fans, BrickHeadz collectors and cartoon figure lovers.
Collectible construction set featuring cool LEGO® BrickHeadz™ interpretations of Disney's iconic Scrooge McDuck and his great-nephews, ducklings Huey, Dewey and Louie.
Makes a great gift for LEGO® fans, BrickHeadz™ collectors and Disney fans aged 10 and up.
Disney's Scrooge McDuck stands over 4 in. (10 cm) high and the ducklings each stand over 2.5 in. (6 cm) high. This 340-piece model features 4 figures, each with a black BrickHeadz™ stand.
SHOP NOW